1
« Last post by North Star on Today at 01:53:32 AM »
Achilles cannot have been pre-pubescent because on the way to Troy he begets a son, Neoptolemos (who does lots of butchery in the sack of Troy, as far as I recall). Of course, epics are hardly consistent as far as ages go (Penelope has a 20 year old son but is never understood as around 40, o.k. maybe she is 36, but nevertheless the fervor of the suitors lusting for her seems to indicate that age does not play a role here.)

I do not recall if there is a special word for war companions. But otherwise friendship is philia and love eros. eromenos (beloved, usually the younger) would be diffferent from philos.

Robert Graves mentions the age of 15, citing Homer himself [The Greek Myths, Graves, 160.l], but I haven't been able to track down the exact passage—the version of the Iliad Graves was working from may have had different numbering or may have had passages that are now considered apocryphal. However, he does lead to some useful passages. In one, Phoenix says:

It was to thee that the old horseman Peleus sent me on the day when he sent thee to Agamemnon, forth from Phthia, [440] a mere child, knowing naught as yet of evil war...

Iliad, Murray, ix.438-440

What is interesting about that passage, when you go to Greek, is that Homer uses the term νήπιον ("nhay-pee-on") which not only means child, but in some cases, specifically a pre-pubescent child. (The LSJ entry from the word link makes direct reference to this passage in the Iliad.)
https://mythology.stackexchange.com/questions/1995/how-old-were-paris-and-achilles-at-the-time-of-the-trojan-war
Achilles reaching puberty and begetting a son on the voyage seems plausible, for Ancient Greek mythology at least.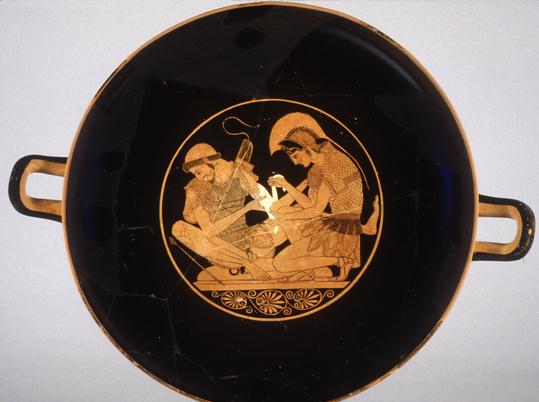 Patroclus and the beardless Achilles tending to his wound.