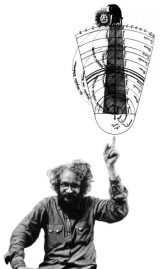 Harry Smith
I must confess from the start that I am no expert on folk music of any sort, let alone American folk music.
But there is something about genuine folk music that appeals. It has an unrefined honesty and spontaneity that sets it apart from other music.
Now I'm not talking about what passes for "folk" music in modern times, which is often just a sounding board for political leanings left and right. I'm referring to the original music of peoples long ago, from Europe West and East, Africa and the Americas. Not only does it give an insight into the lives and times of these people, it also shows the evolution of music of today.
So who was Harry Smith?
Harry Smith was no musicologist in the conventional sense of scholarly training. He was an eccentric, alcoholic, gritty renaissance man. He made experimental films, and art, but is best known for assembling certainly the most famous, and probably the most influential collection of what he called American Folk Music.
He was a collector of neglected and almost forgotten recordings from the 1920's and 30's. This was his American Folk Music. Not field recordings or dusty museum pieces, but music that was recorded, or in his words "music that somebody thought important enough to put on record and somebody else thought it was worth paying for".
And, in the 1950's he saw this rich legacy decaying and being lost forever. So, from his own collection, he assembled 84 pieces of music that he regarded as ther most significant of them all. The music ranges from Appalacian murder ballads to Cajun to early blues to bluegrass to gospel. And more Cajun.
The presentation was remarkable: 6 LP's organised in 3 volumes of 2 LP's each, grouped as Ballads, Social Music and Songs. Harry's liner notes was an entire booklet, with Harry's unique artwork on the cover, reproductions of the original record covers, and his annotations of each piece, including a potted summary of each plot. Two examples:
"Theft of Stetson Hat Causes Deadly Dispute; Victim Identifies Self as Family Man"
"Single Girl: Dressed Fine, Goes to Store Buys, Going Where Please. Married Girl: Wears Any Kind, Rocks Cradle Cries, Baby on Knees"

Anthology of American Folk Music
This CD re-release preserves the original feel and structure of the Anthology. Packaged in a gorgeous fabric-covered box, the 6 CDs are in 3 volumes of 2 CDs each. Harry's original booklet is included, with an additional excellent 100 page booklet of essays, appreciations and photographs that puts the whole collection into perspective.
As a bonus, one of the CDs doubles as a CD-ROM for the technologically capable, with live footage of Harry Smith himself.
This collection is not always easy listening. Most of the performers were amateurs, and the recordings are often scratchy and faded. And there is a bit too much Cajun for my taste. But the authenticity is overpowering. Listening to these recordings takes you back to more simple times, but also more difficult and desperate times. These are recordings of hardship, lonliness and pain, and also of love and joy.
But the most amazing thing about the Anthology of American Folk Music is that this is the music that set the blueprint for modern popular music. Listen to these discs, and you will hear the origins of Bob Dylan, Elvis Presley, Tom Waits, the Rolling Stones and even the Beatles. And everybody who came after.
Somewhat of an acquired taste, Harry Smith's Anthology of American Folk Music is a landmark recording, but also an entertaining and revealing collection for modern times.
Track Listing
Harry Smith
Anthology of American Folk Music

Disc: 1
Henry Lee - Dick Justice
Fatal Flower Garden - Nelstone's Hawaiian
The House Carpenter - Tom Ashley
Drunkard's Special - Coley Jones
Old Lady and the Devil - Bill Reed
The Butcher's Boy (The Railroad Boy) - Buell Kazee
The Wagoner's Lad [Loving Nancy] - Buell Kazee
King Kong Kitchie Kitchie Ki-Me-O - Chubby Parker
Old Shoes and Leggins - Uncle Eck Dunford
Willie Moore - Richard Burnett
A Lazy Farmer Boy - Buster Carter
Peg and Awl - Carolina Tar Heels
Ommie Wise - G.B. Grayson
My Name Is John Johanna - Kelly Harrell
Disc: 2
Bandit Cole Younger - Edward L. Crain
Charles Giteaux - Kelly Harrell
John Hardy Was a Desperate Little Man - Carter Family
Gonna Die With My Hammer in My Hand - Williamson Brothers
Stackalee - Frank Hutchison
White House Blues - Charlie Poole
Frankie - Mississippi John Hurt
When That Great Ship Went Down - William Smith
Engine 143 - Carter Family
Kassie Jones - Furry Lewis
Down on Penny's Farm - Bentley Boys
Mississippi Boweavil Blues - Masked Marvel
Got the Farm Land Blues - Carolina Tar Heels
Disc: 3
Sail Away Ladies [Fiddle Solo] - Uncle Bun Stephens
The Wild Wagoner [Frolic Tune] - Jilson Setters
Wake up Jacob - Prince Albert Hunt
La Danseuse [The Dancer] - Delma Lachney
Georgia Stomp - Jim Baxter
Brilliancy Medley - Eck Robertson
Indian War Whoop [Country Dance] - Hoyt Ming
Old Country Stomp - Henry Thomas
Old Dog Blue - Jim Jackson
Saut' Crapaud [Jump, Frog] - Columbus Fruge
Arcadian One-Step - Joseph Falcon
Home Sweet Home - Breaux Freres
Newport Blues - Cincinnati Jug Band
Moonshiner's Dance (Pt. 1) - Frank Cloutier
Disc: 4
You Must Be Born Again - J.M. Gates
Oh Death, Where Is Thy Sting - Rev. J.M. Gates
Rocky Road - Alabama Sacred Harp
Present Joys - Alabama Sacred Harp
This Song of Love - Middle George Singi
Judgement - Rev. Sister Nelson
He Got Better Things for You - Memphis Sanctified
Since I Laid My Burden Down - Elder & E McIntosh
John the Baptist [Singing Sermon] - Rev. Moses Mason
Dry Bones - Bascom La Lunsford
John the Revelator - Blind Will Johnson
Little Moses - Carter Family
Shine on Me - Ernest Phipps
Fifty Miles of Elbow Room - Rev. F.W. McGee
I'm in the Battlefield for My Lord - Rev. D.C. Rice
Disc: 5
The Coo-Coo Bird - Tom Ashley
East Virginia - Buell Kazee
Minglewood Blues - Cannon's Jug Stompe
I Woke up One Morning in May - Didier Hebert
James Alley Blues - Richard Brown
Sugar Baby - Dock Boggs
I Wish I Was a Mole in the Ground - Bascom La Lunsford
The Mountaineer's Courtship - Ernest Stoneman
The Spanish Merchant's Daughter - Stoneman Family
Bob Lee Junior Blues - Memphis Jug Band
Single Girl, Married Girl - Carter Family
Le Vieux Soulard et Sa Femme [The Old Drunkard and His Wife] - Cleoma Breaux
Rabbit Foot Blues - Blind Leroy Jefferson
Expressman Blues - Sleepy John Estes
Disc: 6
Poor Boy Blues - Ramblin' Thomas
Feather Bed - Cannon's Jug Stompe
Country Blues - Dock Boggs
99 Years Blues - Julius Daniels
Prison Cell Blues - Blind Leroy Jefferson
See That My Grave Is Kept Clean - Blind Leroy Jefferson
C'Est Si Triste Sans Lui [It Is So Blue Without Him] - Cleoma Breaux
Way Down the Old Plank Road - Uncle Dave Macon
Buddy Won't You Roll Down the Line - Uncle Dave Macon
Spike Driver Blues - Mississippi John Hurt
K.C. Moan - Memphis Jug Band
Train on the Island - J.P. Nestor
The Lone Star Trail - Ken Maynard
Fishing Blues - Henry Thomas