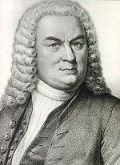 Johann Sebastian Bach
If there is a piece of music most associated with one performer, then surely it is Bach's Goldberg Variations, and Glenn Gould. Gould made the Goldberg Variations, and the Goldberg Variations certainly made Glenn Gould.
Gould had made his concert debut at age 16. Then, while known in Canada through his concert appearances, he burst onto the international stage with his first recording, the now-legendary 1955 version of the Goldberg Variations.
The young, headstrong Gould had completely rejected the common romantic interpretations of Bach as performed by Wanda Landowska. He brought an ice-down-the-back-of-the-shirt clarity to Bach's neglected keyboard masterpiece, and turned it into a best-seller, and himself into a star. In fact, the recording has never been out of print in the almost 50 years since it was recorded.
Landowska's famous statement to a pianist "You play Bach your way, and I'll play him
his
way" becomes ironic after you've heard Glenn Gould bring out every nuance of counterpoint in these works, revealing their full complexity. Glenn Gould's performances are usually described with words such as cold, crystalline, icey, sharp, intellectual, impeccable, eccentric and arrogant. Not all complimentary words. After hearing this version of the Goldbergs I must add to this list lighthearted, free, friendly, delicate, witty and fulfilling.
Bach's Goldberg Variations are one of those rare works in classical music that have instant appeal to beginners, but also a richness and complexity that gratifies the expert. The more you look, the more you find, and it is impossible to tire of them.
The Title Page of the Manuscript of Bach's Goldberg Variations


"Clavierübung consisting of an Aria with Diverse Variations for the Harpsichord with Two Manuals Composed for Music Lovers to Refresh their Spirits, by Johann Sebastian Bach: Royal Polish and Electoral Saxon Composer Capellmeister, and Director Chori Musici in Leipzig."
Tradition has it that Bach was commissioned by the insomniac Count Keyserlingk to write the pieces for his court musician Johann Gottlieb Goldberg to play to help him sleep. As Gould says in his liner notes to the 1955 recording, this is a charming story and difficult to disprove.
But there remains much scepticism: Goldberg was just 14 years old when it was published, and his keyboard skills may not have been adequate for the task, there is no dedication on the title page (as was customary), and there is no evidence of the golden chalice that Keyserlingk was supposed to have paid Bach for the music.
For those interested in Bach's almost mathematical structures, the Goldberg Variations will fascinate. The Aria, a Saraband, appears like two pillars at either end of the work. In between are 30 variations, grouped into 10 groups of three. Each set of 3 pieces is a free variation, a variation in duet and a canon. Thus every third piece is a canon, starting with a canon in unison (ie the canonic parts are in the same key) followed by ever increasing intervals until the 27th variation, a canon in ninth.
Confused? Hold your cursor over each color below to reveal the structure.































































As a musical joke, the 30th variation is not a canon at all, but a quodlibet, music where two independent melodies are played together. Here Bach uses two low-brow folk melodies, "
I long have been away from you
" and "
Cabbage and turnips have driven me away, Had my mother cooked meat, I'd have chosen to stay
".

Glenn Gould
The Goldbergs are a showpiece of keyboard virtuosity and variety. Glenn Gould brings out the flavours of them all. The pensive Aria, the cheeky 5th variation and the deeply introspective 25th Variation, that Landowska called the
Black Pearl
. And yes, if you turn the volume up, you can clearly hear Gould singing along, obviously enjoying himself.
As a final irony, Gould re-recorded the Goldbergs in 1981, despite rarely doubling up in recordings throughout his career. It was the same Gould, but a completely different set of Goldbergs. Slower (much slower), less fireworks but deeper and more meditative. He died from a massive stroke soon after, the two Goldberg Variation recordings pillars at each end of his creative life.
Track Listing
Kurt Weill
The Seven Deadly Sins (Die sieben Todsünden)
and Berlin Theatre Songs
Lotte Lenya
(1955 recording)
The Seven Deadly Sins
Prologue: Andante sostenuto
Idleness: Allegro vivace
Pride: Allegretto, quasi andantino - Schneller Walzer
Anger: Molto agitato
Gluttony: Largo
Lust: Moderato
Avarice: Allegro giusto
Envy: Allegro non troppo - Alla marcia, un poco tenuto
Epilogue: Andante sostenuto

The Threepenny Opera (Die Dreigroschenoper)

Mack the Knife (Moritat vom Mackie Messer)
Barbara-Song
Pirate Jenny (Seeräuberjenny)

The Rise and Fall of the City of Mahogony
Aufstief und Fall der Stadt Mahogany)

Havanna-Lied
Alabama-Song
As You Make Your Bed (Denn Wie Man Sich Bettet)

Happy End

Bilbao-Song
Surabaya Johnny
Sailor's Tango (Was die Herren Matrosen sagen)

Berlin Requiem (Das Berliner Requiem)
Ballad of the Drowned Girl (Ballade Vom ertrunkenen Mädchen)

The Silverlake, A Winter's Tale
(Der Silbersee, Ein Wintermarchen)

I am a Poor Relative (Lied der Fennimore)
Ballad of Caesar (Cäsar Tod)