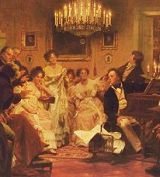 A Schubertiad
One evening in Vienna in 1827 a group of friends gathers to meet in a small drawing room. A short, stocky man, a little dishevelled and obviously unwell, shuffles in, warmly greeted by all. He sits at the piano, glowing in candlelight, and pulls a large sheath of manuscripts from his coat pocket.
What follows is two hours of songs, short piano music, sonatas, sketches of symphonies, ideas for future operas, all to much discussion and acclaim from the guests. Of note, all the music performed this evening is the fruit of just 2 weeks of composing.
The small man, of course, is Franz Schubert, and these regular evening soirées became known as Schubertiads, organised by his friends to promote his music.
Franz Schubert
Schubert lived in a mighty shadow, cast by his hero Beethoven. His music was not commercially successful, and he was often in poverty, dependent on his friends. Schubert's music was often more progressive than anything that had been written before, paving the way for the Romantic movement, but his painfully shy nature left his music largely unappreciated and unpublished.
Best known in his time for his 600 German
lieder
or art songs, Schubert's prodigious output is all the more astonishing when we remember that of all the great composers, Schubert died the youngest, at age 31.
Like Chopin, Schubert was a master of the piano miniature. He wrote dozens of Moments Musicaux, impromptus, marches, allegros, sonatas, fantasias. And like Chopin, they are high on the instant likability scale with beautiful melodies and rapidly changing moods.
Of all of Schubert's piano music, the
Impromptus Deutsche 899
and 935 stand out as an exquisite set. They are more than just a musical diversion - the name Impromptu is surely tongue in cheek.
These pieces have a depth of feeling and Romantic intensity, from true happiness to the most profound longing (
Impromptu in G Flat D. 899 No. 3
); childlike innocence (
Impromptu in B flat D.935 no.3
) to the depths of spiritual darkness (
Impromptu A flat, Op.90 no.4
); almost everything that can be expressed in music is here in these eight short pieces of music.Most of all, they are exquisitely beautiful.

Alfred Brendel
Alfred Brendel specialises in the piano music of the classical and early Romantic era. His is famous for his carefully studied interpretations, sparse in embellishment, a pianist who lets the music speak for itself.
The trick with playing Schubert is to reconcile the Classical correctness with the Romantic intensity. The question is how much heart and how much mind to put into each piece. This is music that every pianist of note has recorded; Radu Lupu and Murray Perahia are at the drier end of the spectrum, whereas Mitsuko Uchida and Ingrid Haebler present more delicate, feminine versions.
For my money, Alfred Brendel has just the right balance, intellectually respectful, but also rich and warm, never descending to sentimentality. This is Volume 5 from his boxed set of the complete piano music of Schubert, a landmark recording from Philips, and a must-have for the Schubert lover.
When Schubert died in 1828, his friends mourned not only the loss of their friend but also the loss of "still fairer hopes". I can't help but think that had Schubert lived longer or at least if more people listened to his music, the world would be a better place.
Track Listing
Franz Schubert
Impromptus D.899 and D.935
Alfred Brendel
Impromptu D.899 No. 1 In C Minor
Impromptu D.899 No. 2 In E Flat
Impromptu D.899 No. 3 In G Flat
Impromptu D.899 No. 4 In A Flat
Impromptu D.935 No. 1 In F Minor
Impromptu D.935 No. 2 In A Flat
Impromptu D.935 No. 3 In B Flat
Impromptu D.935 No. 4 In F Minor