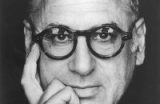 Michael Nyman
Michael Nyman is perhaps most famous for not winning an Oscar award. His score for Jane Campion's film The Piano was easily the best on offer in 1994, and was intimately and intelligently entwined with the plot of the movie. To everyone's bewilderment, including Nyman's, it did not even receive a nomination.
The mesmerising soundtrack album to The Piano has since gone on to sell over 3 million copies and made Nyman instantly famous. He is quick to point out, however, that his so-called overnight success was as a result of 20 years hard work.
Michael Nyman started out as a musicologist, editing the works of Henry Purcell (Purcell and other early English composers still crop up in Nyman's music) and also spent some time collecting ethnic Romanian music.
He then became a music writer and critic for The Spectator magazine. His main claim to fame from this period is his coining of the term Minimalism to describe the music of Cornelius Cardew in 1968. Little was he to know that he would later become of the the great exponents of this form of music.
The term Minimalism refers to music that has at its basis simple patterns and repeated elements, which slowly and subtly change with time, shifting in and out of phase, forming a hypnotic tapestry of sound. It is certainly not a new form. Its not even a Western invention. The folk music of cultures as diverse as Eastern Europe, sub-Saharan Africa, Scandinavia and Mongolia use short, endlessly repeated rhythmic or melodic patterns.
Minimalism has a reputation for being difficult, self-important and boring, listened to only by critics and other minimalist composers. Lately, minimalism has entered the mainstream, largely through the movie scores of Philip Glass (Kundun, The Secret Agent) and Michael Nyman (The Piano, Carrington, and Peter Greenaway's Prospero's Books).
The basic repetitive structure remains, but minimalim has become more melodic, with more accessible harmonies and contrasts of moods, less mathematical, more musical. Minimalism has become whistlable!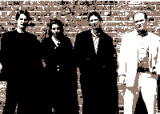 Balanescu Quartet
Nyman's first string quartet is a complex work, derived from a set of variations of a song by John Bull, set to a background of a Schoenberg fragment. It is, in my opinion the weakest of the three (and confusingly is last on the CD).
The second and third string quartets are recycled from previous works by Nyman, the second from his music to accompany an Indian dance work, and the third from a choral work called
Out of the Ruins
, written in aid of victims of the Armenian earthquake in 1989.
These are both dazzling works, ideas pouring forth, rapidly superceded by new ideas. Contrasts in mood and speed and harmonies around every corner, they bring the concept of the string quartet to a new plane. The traditional form of the string quartet is somewhat left by the wayside; there is very little interplay between the individual instruments. Are these true string quartets or just music written for four strings?
This is very accessible music, especially for one with a Minimalist pedigree, true to Nyman's goal of bringing good music to the masses. And played by the Balanescu Quartet, who specialize in expanding the repertoire of the four strings, it becomes an exhilarating ride.
Track Listing
Michael Nyman
String Quartets no.1, 2 and 3
Balanescu Quartet

(Alexander Balanescu, Anthony Hinnigan, Kate Musker,Jonathan Carney)
String Quartet No.2

I
II
III
IV
V
VI

String Quartet No. 3

beginning
fig. D

String Quartet No. 1

beginning
fig. B
fig. C
fig. D
fig. E
fig. F
fig. G
fig. H
fig. I
fig. J
fig. K
fig. L