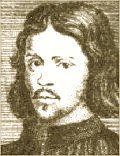 Thomas Tallis
The story goes that the London musical crowd of 1567 was in a spin over
Ecce beatam lucem
, a choral work for 40 individual voices by Allessandro Striggio. At the time there was competition between English and Continental music publishers. The Duke of Norfolk issued a challenge to English musicians to better the Italian effort and the result was
Spem in Alium
by Thomas Tallis.
Another version says that Tallis wrote the 40 part motet for the 40th birthday of Queen Elizabeth I in 1573. The choice of text, from the Book of Judith, may have been to flatter the Queen, comparing her to the heroic Judith.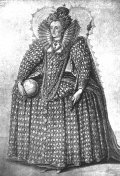 Queen Elizabeth I
But even that may not be the truth. The strictly Catholic Tallis may have written
Spem
to honour the Catholic Queen Mary, in defiance of the Protestant Queen Elizabeth.
Whatever the truth,
Spem is Alium
is one of the treasures of Elizabethan English music. It is scored for 40 individual voices, divided into eight choirs of five voices each. The opening theme weaves its way through the eight choirs one by one, until all 40 voices come together in a climax at the 40th bar.
Spem in alium numquam habui praeter in te
Deus Israel
qui irasceris
et propitius eris
et omnia peccata hominum in tribulatione dimittis
Domine Deus
Creator coeli et terra
respice humilitatem nostram


I have never put my hope in any other but in you
God of Israel
who will be angry
and yet become again gracious
and who forgives all the sins of suffering man
Lord God
Creator of Heaven and Earth
look upon our lowliness

It is possible that the first performance of
Spem in Alium
was at the banquet hall of Arundel Castle, an octagonal room that would have accomodated the eight choirs to perfection. A listener in this room would have music from heaven coming from all directions, a Renaissance version of surround sound.
Other recordings of
Spem
include women in the soprano parts or organ or instrumental accompaniment. This, however is an authentic version, being sung only by the men and boys of the Choir of Kings College, Cambridge, led by Stephen Cleobury.
Spem
is a showpiece, and this recording brings out the deliciously rich texture of this tapestry of sound.
Coupled with the
Lamentations of Jeremiah I and II
, Tallis's last works and some lesser known works, this CD is to be savoured, the perfect introduction to the greatest of English Renaissance music.
Editorial note - this CD is no longer available. However many of the recordings on this CD have been incorporated into a 2 CD set of the music of Thomas Tallis. The Amazon buttons above link to this 2 CD set, available at bargain price.
Track Listing
Thomas Tallis (1505-1585)
Spem in Alium
and other works from
Tudor Church Music
Choir of Kings College, Cambridge
Stephen Cleobury

Spem in Alium (8:52)
Lamentations of Jeremiah I (7:35)
Lamentations of Jeremiah II (12:48)
Videte miraculum (10:42)
Dum transisset sabbatum (7:50)
Honor, virtus et potestas (6:34)
Loquebantur variis linguis (5:04)