Felix Mendelssohn
The well-known picture of the German Romantic composer is a poor man, troubled by great questions of existance, the angst expressed in his music, likewise tortured and turbulent.
Felix Mendelssohn does not fit this mold at all. His life is best described as happy. A nurtured childhood, with loving parents who encouraged but did not exploit his early talent, a successful career, recognised and respected in his lifetime. Indeed, his very name, Felix, means happiness.
His music, too, is generally light and lighthearted. A none more so than his incidental music for A Midsummer Night's Dream. To the point that it is often criticised for being all fluff and no substance. Yet it remains his most popular piece of music.
The Overture (opus 21) is easily the best known section and was written in 1826 at the age of 17. It sets the magical, mystical stage for Shakespeare's much-loved (and lightest) play. The rest of the Incidental Music (opus 61) was written 16 years later. Yet Mendelssohn makes the whole work tie together, using themes from the original Overture throughout.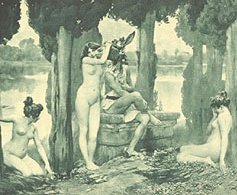 Midsummer Night's Dream
A Midsummer Night's Dream was unique in Shakespeare's list of works. It alone was not based on any other story, being purely Shakespeare, although borrowing heavily from pagan myth and popular ideas. The complex plot is set in a fantasy world of fairies and queens, magic flowers and misdirected love potions, mistaken identities and love finally triumphant.
And unlike his other plays, Shakespeare does not explore great issues or emotions in A Midsummer Night's Dream. It is simply a rustic, fairytale romp about the absurdities of love. And, most likely, it was commissioned for a real wedding, although the names of the patron couple has been lost in time.
Mendelssohn's music was intended to be played between scenes of the play, much like movie scores today add to the mood of a movie. Even without the play, you are transported to a surreal, enchanted woodland.
The
Scherzo
heralds the arrival of the fairies, with Kathleen Battle and Frederica von Stade singing the two fairies. The wiley Puck, the mischevious troublemaker and narrator enters in the
Intermezzo
, and a jaunty bassoon melody accompanies the earnest but incompetent craftsman Bottom, whose head Puck has turned into that of an ass.
The climax is the group wedding scene, set to the famous
Wedding March
. How many couples have been married to this music, unaware of the convoluted story of love gone wrong behind it.

Judi Dench
What sets this recording apart from others is the narration of Dame Judi Dench. Her exerpts from Shakespeare set the scenes beautifully and remind us that this is music for the theatre, not the concert hall, and is as much Shakespeare as it is Mendelssohn. Her contribution is so fitting that the finale sounds like a duet for Dench and orchestra, her voice understated and polished.
Perhaps Battle and von Stade sound a little heavy for fairies, as if they were singing an opera, but still very professional. And Seiji Ozawa and the Boston Symphony have a ball with this music. This is a sparkling performance, bright, colorful and enchanted.
Good music doesn't always have to be deep and meaningful. It can be entertaining and witty and simply fun. Midsummer Night's Dream is certainly all this.
Track Listing
Felix Mendelssohn
A Midsummer Night's Dream
Seiji Ozawa
Boston Symphony Orchestra
Kathleen Battle and Frederica von Stade
Dame Judi Dench (narrator)

Overture - Incidental Music
No.1 Scherzo
No. 2
March Of The Fairies
No. 3 Song With Chorus
No. 4
Help Me, Lysander, Help Me!
On The Ground (Narrator)
Her Dotage Now I Do Begin To Pity
No. 9 Wedding March
No. 10
Marcia funebre
Will It Please You To See The Epilogue
No. 12
No. 13 Finale