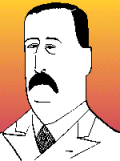 Alexander Borodin
Musically speaking, Russia has always struggled to find its own voice. It sits uncomfortably between East and West, not quite Asia, but not quite Europe. In the 1800's Russian music began to mimic the Germanic tradition of classical and romantic styles.
A small group of composers decided that Russian music was valuable in its own right, and that there was a rich vein of Russian tradition to be drawn upon. This group was made up of Mussorgsky, Balakirev, Rimsky-Korsakov, Cui and Alexander Borodin, and these traditionalists became known as
"The Five"
and
"The Mighty Handful"
.
Borodin was probably the most ambivalent of them. His music often incorporates Russian folk songs and Slavic motifs, but in structure and style he remained very Western.
Borodin was a very interesting man. Born a illegitimate son of a Georgian prince and a doctor's wife, he learnt to play several musical instruments, and dabbled in composition in his teens. But his main academic interest was in chemistry, becoming professor at the St Petersburg Medico-Surgical Academy and recognised for his pioneering work in the aldehydes. Later in life, he set up a medical course for women.
Music was a lifelong interest even if only as a hobby. Today he is best known for the
Polovtsian Dances
from his opera
Prince Igor
, the tone poem
In the Steppes of Central Asia
and of course the
Second String Quartet
, his most intimate work.
His
String Quartet no.2
is a ravishingly beautiful work, in style unlike anything Borodin had written before. Dedicated to his wife Ekaterina, the whole work is almost like a love letter. The prominent cello and first violin parts may represent Borodin and his wife.
It opens with a dreamy, gossamer melody, in very free form. The
scherzo
second movement is made up of two gentle waltz-like dances. The third movement contains the very famous
Notturno
, often performed on its own as an encore piece, sometimes by string orchestra and sometimes corrupted into other arrangements. Hearing Borodin's original version is a refreshing experience if you've only heard the other incarnations. The finale movement rounds out the work, blissful and warm.
Borodin's
String Quartet no.1
is by no means as famous. It is the work of a man learning the art. It waffles a bit, the content far exceeded by its length. It has pretty melodies and lovely moments (the
Andante
in particular is expressive and beautiful) but it lacks the concise purpose and cohesion of the second.
Naxos is a recording company with an increasingly fine reputation. They specialise in the more obscure repertoire, lesser known (or even unknown) artists, often from Eastern Europe, and performances that almost always are on par with (and often surpass) the big labels and performers.
The Haydn String Quartet are from Budapest, and this recording is as fine as you will find for any price. The clarity of line, the expressive and song-like melodies and the richness of tone are all brought out beautifully.
These bargain priced discs are proof that price is no guide to quality.
Track Listing
Alexander Borodin
String Quartets no.1 and 2
Haydn String Quartet
(Lajos Foldesi, Janos Horvath, Gabor Magyar, Andras Rudolf)

String Quartet no.1 in A major

Moderato-Allegro
Andante con moto
Scherzo: Prestissimo
Allegro risoluto

String Quartet no.2 in D major

Allegro moderato
Scherzo: Allegro
Notturno: Andante
Finale: Andante-Vivace