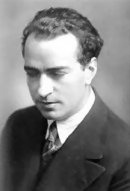 Joachin Rodrigo
Rarely is music just music. Places, people, events and (most commonly) emotions all influence and inspire composers.
The
Concierto de Aranjuez
shot a 39 years Joaquín Rodrigo to fame, at first hailed in his homeland as the greatest Spanish composer, and later recognised worldwide. It draws its title from the royal palace of Aranjuez, a town steeped in history and place of Rodrigo's honeymoon with his wife Victoria.
One cannot listen to the overwhelming sadness of the second movement (
Adagio
) without thinking what tragedy inspired it. Written in 1940, was it the Spanish Civil War, or the impending World War II? Yet when asked about it, Rodrigo would simply shrug his shoulders and say that it was just general thoughts and feelings and the wind in the trees around Aranjuez.
Like many composers, Rodrigo battled physical adversity. Blind from diphtheria from the age of three, he often said that his disability led him to music. He died in 1999, a national treasure, aged 98.
His confidant, the classical and flamenco guitarist Pepe Romero has since revealed what the
Adagio
really signified. The
Concierto
was only half finished when Victoria, pregnant with their first child fell ill, and was expected to die. On being told the news, Rodrigo vented his grief by composing the
Adagio
at the piano. As it happened, Victoria survived (and was inseperable from Rodrigo until her death in 1997), but the child died.
The
Concierto de Aranjuez
revived the guitar concerto from obscurity, the last great guitar concerti being written by Vivaldi and Giuliani hundreds of years ago. It successfully weds the guitar to the modern orchestra with Rodrigo's characteristically light, simple but interesting orchestration. Its bright and breezy outer movements contrast stunningly with the profound central
Adagio
.
The
Fantasia para un gentilhombre
(Fantasy for a gentleman) was Rodrigo's second guitar concerto and the two form the backbone of his fame outside of Spain.

John WIlliams
There is a lineage in the
Fantasia
that links a Renaissance composer by the name of Gaspar Sanz all the way to the soloist on this CD, the Australian John Williams.
Sanz wrote a set of guitar pieces that form the inspiration for Rodrigo's work, in the same way that Respighi's
Ancient Airs and Dances
are based on Renaissance lute music. The "Gentleman" referred to in the title is Andreas Segovia, the famous Spanish classical guitarist. Rodrigo wrote the work for Segovia, and he gave its first performance. John Williams was "discovered" by Segovia and studied under him for several years.
This is elegant, courtly music breathed new life by Rodrigo's imaginative arrangement. Rarely do we think of guitar music as beautiful, but this proves how delicate, intricate and evocative it can be. Williams' playing is exceptional, living up to the heritage.
As a generous filler, we have works by Isaac Albeniz continuing the Spanish theme. This mid-price release by Sony again shows that price is no indication of quality - a better recording of Rodrigo's most famous music you will not find for any price. Get it while you can.
Track Listing
Joaquín Rodrigo
Concierto de Aranjuez and other works
John Williams, guitar
Philharmonia Orchestra, Louix Fremaux
Joaquín Rodrigo
Concierto de Aranjuez for guitar & orchestra

Allegro con spirito
Adagia
Allegro Gentile

Joaquín Rodrigo
Fantasía para un gentilhombre, for guitar & orchestra

Villano Y Ricercare: Adagietto: Andante Moderato
Espanoleta Y Fanfare De La Cambelleria De Napoles: Adagio
Danza De Las Hachas: Allegro Con Brio
Canario: Allegro Ma Non Troppo

Isaac Albeniz
Suite española for piano

No. 1 in F major, "Granada" Op. 47/1, B7/1
No. 5 in G minor, "Asturias" Op. 47/5, B7/5
No. 3 in G major, "Sevilla" Op. 47/3, B7/3


Mallorca, barcarola for piano in F sharp minor, Op.202, B41
Cantos de España (5) for piano, Op. 232, B44: No. 4 in D minor, "Cordoba"