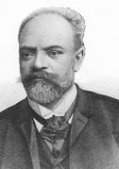 Antonin Dvorak
Beethoven's death in 1827 left a huge void. His symphonies, concertos and sonatas form the backbone of modern Western classical music. His solitary
Violin Concerto
is commonly thought of as the turning point between the Classical and Romantic eras, being symphonic in its scope and rich in emotional expression.
Of the post-Beethoven violin concertos, those of Mendelssohn, Bruch and Brahms are the most famous. All of them grand, expressive, melodic and very German.
But it was Dvorak's
Violin Concerto in A minor
that really advanced the form to new heights. Written in 1879 and revised twice, it had its first performance in 1883. While it still followed the Germanic concerto form, Dvorak infused it with traditional Czech melodies and his own characteristic harmonic style.
Like the concertos of Brahms and Bruch, Dvorak dedicated his to the Hungarian virtuoso violinist Joseph Joachim, and also like the Brahms and Bruch, Joachim did not refrain from adding his own suggestions and alterations. While Dvorak did make some revisions, he was insulted by Joachim's comments and finally refused to let him perfom it at its premier.
Joachim's main sticking points were its unconventional structure (there is no introductory orchestral opening, and the first and second movements are linked by a short transition), its "heavy" orchestration and the very Czech finale. In short, it was not Beethoven!
Since then, it has become one of Dvorak's most-played works, somewhat overshadowed by the
Ninth Symphony
(
From The New World
) and the
Cello Concerto
. It manages to intertwine Dvorak's Nationalist feelings expressed through the Czech melodies, within a complex Romantic concerto.

Akiko Suwanai
And this is an astounding performance by Akiko Suwanai. Part of a new generation of young violinists, she won the 1990 International Tchaikovsky Competition, the youngest first-prize recipient in its history.
She went back to Juliard to consolidate her skills and has since performed all over the world. Her debut recording was of the Bruch
Violin Concerto
and
Scottish Fantasy
which won much praise, but it is this recording of the Dvorak secures her position as one of the world's greatest violinists.
Her performance (on a 1714 Antonio Stradivarius violin) is sweet-toned and lyrical during the slow movements, and brilliantly crisp for the furiant finale, beautifully complemented by Ivan Fischer and the Budapest Orchestra.
It is ironic that the Dvorak is coupled with Sarasate. Sarasate was a virtuoso violinist, and his compositions were written to show off his talents. He held Dvorak in fairly low regard, describing the
Violin Concerto
as "nothing but pom-pom-pom and old-fashioned form". Sarasate had a thing or two to learn about substance over style.
The Sarasate works on this CD, the
Carmen Fantasy
and
Zigeunerweisen
are cleverly presented before the major violin concerto, like an entrée before the main course. They are encore pieces, showpieces, but Suwanai plays them with such delicacy and fervour that they never degenerate into cliché.
This is a stunning recording, possibly the best ever of the Dvorak
Violin Concerto
, restoring it to its rightful place.
Unreservedly recommended.
Track Listing
Antonin Dvorak
Violin Concerto in A minor op.53
Pablo Sarasate
Carmen Fantasy, Zigeunerweisen
Akiko Suwanai, violin
Budapest Festival Orchestra
Ivan Fischer
Sarasate: Zigeunerweisen, Op.20
Sarasate: Carmen Fantasy, Op.25
Dvorak: Mazurek, Op.49

Dvorak: Violin Concerto in A minor op 53

I. Allegro Ma Non Troppo
II. Adagio Ma Non Troppo
III. Finale: Allegro Giocoso, Ma Non Troppo