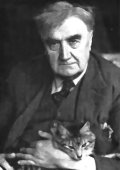 Ralph Vaughan Williams
Richard Wagner once scoffed that England was the land without music. And unfortunately it was true. Despite being the world superpower, England produced no music of any significance after the death of Handel (who was actually German) until the beginning of the twentieth century.
And while Edward Elgar carried the banner, his was music in the continental style, without anything distinctly English about it. It was Ralph Vaughan Williams who led the revival in truly English music.
Born in Gloucestershire in 1872, he studied at the Royal College of Music, his teachers including Max Bruch and Maurice Ravel. Like Bartok in Hungary, and Sibelius in Finland Vaughan Williams developed an interest in the folk music of his country, and eventually collected and archived over 800 English folk songs.
His other sources of inspiration came from English hymns (he edited the new
English Hymnal
) and Elizabethan music, especially that of Thomas Tallis and William Byrd.
While he tips his hat generously to the past, Vaughan Williams creates a musical world very much his own, entwining ancient themes with his rich orchestration and elaboration. His passion for English music paved the way for the new generation of English composers of the twentieth century, namely Benjamin Britten and William Walton.
Fantasia on a Theme by Thomas Tallis

It was while editing the new English Hymnal that Vaughan Williams came across Addison's hymn "
When, rising from the bed of death
" and set by Thomas Tallis. This forms the main basis for the
Fantasia on a Theme by Thomas Tallis
. Written in 1910, it is now generally regarded as Vaughan Williams' first great masterpiece.
It is set for string orchestra, but this is simplistic. Vaughan Williams divided the orchestra into three sections, a large string section, a smaller set for 9 strings and a string quartet. At times we get the richness of the full choir, at other times the clarity of the quartet and occassionally just the intensity of a solo string.
At first hearing, the
Fantasia
may seem sombre or even grave. But with time you will hear the passion emerge, admittedly with English restraint, but a celebration nevertheless.
Fantasia on Greensleeves

Greensleeves
is an English tune known in Shakespearian times. It is a beautiful melody and difficult to imagine that anybody could improve on it. Vaughan Williams does. His
Fantasia on Grreensleeves
is a simple piece, combining Greensleeves with the folk tune "
Lovely Joan"
. It has become Vaughan Williams' best-known arrangement.
The Lark Ascending

The Lark Ascending
creates a mythical world of pastoral England. Rolling hills, thatched farmhouses, churches nestled in lush green valleys. Above this utopian scene, a lark rises, its flight represented by the solo violin played by Iona Brown. The score is inscribed with a poem by George Meredith:
He rises and begins to round,
He drops the silver chain of sound.
And ever winging up and up,
Our valley is his golden cup,
And he the wine which overflows,
To lift us with him as he goes.
Till lost on his aerial rings,
In light and then the fancy sings.
Five Variants on 'Dives and Lazarus'

As a collector of English folk tunes, Vaughan Williams was struck by the a tune he discovered in 1893 in a copy of
English Country Songs
called
Dives and Lazarus
. Over the next 40 years he found different versions of the same tune, sometimes under different names, such as
The Star of the County Down
as it was known in Ulster.
And so the
Five Variants
are not a set of variations in the conventional sense, but "reminiscences of various versions" as Vaughan Williams describes them. They demonstrate his ability to incorporate simple folk melodies into almost symphonic creations.
A Collection of Masterpieces
Vaughan Williams guiding principle is musicality. He did not have a hidden agenda, and seemed relatively unscathed by the wars and turmoil that punctuated his times. His music defines modern English music. Vaughan Williams
is
English music.
This selection includes his best-known shorter works. They are deceptively simple to listen to, but listen again and the power and beauty of these short pieces are revealed.
Track Listing
Ralph Vaughan Williams
Best-Known Orchestral Works
Academy of St Martin-in-the -Fields
Neville Marriner
Fantasia On A Theme By Thomas Tallis (for two string orchestras)
Fantasia On Greensleeves for harp, flute, & strings (arranged by R. Greaves; from the opera Sir John In Love)
The Lark Ascending, romance for violin & orchestra
Five Variants Of 'Dives And Lazarus', for string orchestra & harp