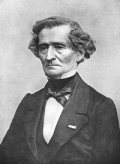 Hector Berlioz
With the
Symphonie Fantastique
Hector Berlioz pronounced that the Romantic era had arrived. With its program of romantic infatuation, a dizzying waltz, an opium-induced delirium, murder, suicide, a beheading and a witches dance, there was no going back to the sedate, refined days of the Classical.
It had it origins in a visit by an English theatre company to Paris in 1827. On offer was a exclusively Shakespearian production, and a beautiful Irish actress called Henrietta Smithson.
Smithson's role of Ophelia in
Hamlet
completely captivated the young Berlioz. He could not get her out of his mind, and despite never actually meeting her, his passion for her became first an obsession and then a torture.
He sent her letters, the fervour of which frightened her, and even rented an apartment across the road from her own, only to have her leave a few days later for a tour of Holland. This he viewed as personal rejection and his madness grew. He wandered the streets aimlessly, dishevelled and disturbed.
By 1830, he had found his path. He wrote to a friend:
"I am about to begin my symphony in which the development of my passion will be depicted".
This symphony was to be called
Episode in the Life of an Artist
but is better know today by its subtitle
Symphonie Fantastique
. It was unlike anything that had been written before. A ferment of ideas and emotions and gothic imagery, five movements, connected by a recurring but varied theme, the
idée fixe
, representing the obsessive love that permeates the piece.
Berlioz handed out a five page program to the audience that details the the plot that the music represents, so that nobody could mistake its message. What follows is an abbreviated version of Berlioz's own text for each movement.
1 - Rêveries, Passions (Day Dreams – Passions)
A young musician sees for the first time a woman who possesses all the charms of the ideal being he has dreamed of, and falls desperately in love with her. She never appears to the artist's mind except in association with a musical idea … the tune at the beginning of the first allegro constantly recurs in every movement - the
idée fixe
. States of dreamy melancholy, fits of aimless joy, delirious passion, impulses of rage and jealousy, returning moments of tenderness, its tears, and its religious solace.
2 - Un Bal (A Ball)
The hubbub of a carnival, in peaceful pastoral contemplation. Again the beloved vision appears before him, bringing trouble to his soul.
3 - Scène Aux Champs (Scene from the Meadows)
One evening in the country, he hears in the distance two shepherd flutes. He thinks of his loneliness; he hopes soon to be alone no longer. But is she deceiving him? This hope and fear, happiness disturbed by dark forebodings, form the subject of the adagio.
4 - Marche Au Supplice (March to the Scaffold)
The artist, now knowing beyond all doubt that his love is not returned, poisons himself with opium. He descends into a sleep accompanied by the most horrible visions. He dreams that he has killed the woman he loved, that he is condemned to death, brought to the scaffold, and witnesses his own execution.
5 - Songe D'une Nuit Du Sabbat (Sabbath Night's Dream)
He sees himself at a witches' sabbath, in the midst of a ghastly crowd of spirits, sorcerers, and monsters of every kind, assembled for his funeral. The beloved tune appears once more. It has become trivial and grotesque; it is she who has come to the sabbath.
Sir Colin Davis's 1974 account of the
Symphonie Fantastique
with the Concertgebouw Orchestra has never been bettered. This is a Romantic work and Davis brings out its passion and adrenaline. But it also has longing, sadness and soul. The dream-like pastoral scene shimmers and the final moments of terror before the scaffold is edge-of-your-seat stuff.
As a footnote, two interesting facts. Henrietta Smithson eventually heard of Berlioz's infatuation with her, and eventually they were married, and had a son, Louis in 1834. Berlioz wrote a much less well-known sequel to his
Symphonie
, called "
Lélio, or the Return to Life
".
As much as we dislike the term "definative", as everybody's opinion is their own, this recording of the
Symphonie Fantastique
is hard to beat.
Track Listing
Hector Berlioz
Symphonie fantastique for orchestra Op. 14
"
Episode de la vie d'un Artiste
"
(Episode in the Life of an Artist)
Concertgebouw Orchestra, Colin Davis
Reveries, Passions
Largo - Allegro agitato ed appassionato assai

Un Bal
Valse: Allegro non troppo

Scene Aux Champs
Adagio

Marche Au Supplice
Allegretto non troppo

Songe D'une Nuit Du Sabbat
Larghetto - Allegro - Ronde du Sabbat: Poco