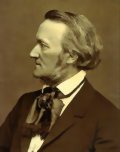 Richard Wagner
The general public was never supposed to hear Richard Wagner's
Siegfried Idyll
. It was a very private work, written to celebrate the birthday of Wagner's wife of four months, Cosima, on Christmas day 1870.
In fact, the name
Siegfried Idyll
was coined much later. It was originally called
Tribschen Idyll
, named after Wagner's country retreat near Geneva. The
Siegfried
title comes from Wagner's infant son. And there our story begins.
Little Siegfried was the third child of Richard Wagner and Cosima. His two older sisters, Isolde and Eva, were both born while Cosima was married to Hans von Bulow, but it was common knowledge (and a famous scandal) that Wagner was the father of all three.
Von Bulow is now recognised as the first great orchestral conductor. He was also a staunch advocate of Wagner's music, a respect that transcended the shame of his illegitimate children. He once said "If it had been anyone but Wagner, I would have shot him!"
Cosima herself was one of three illegitimate children sired by Franz Lizst during his 11 year liaison with the Countess Marie d'Agoult. Her marriage to von Bulow was unhappy, and she asked him for divorce several times. She too was devoted to Richard Wagner. Only after the birth of Eva did he finally grant her wish.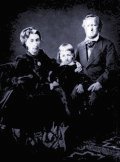 Cosima, Richard and Siegfried
After the divorce, Cosima pronounced herself truly happy. She moved to Tribschen with Wagner in 1868, and the following June little Siegfried was born.
From then on Wagner began work on a project of great secrecy. Music was written in the early hours of the morning, rehearsals performed out of earshot of the villa. And Hans Richter, French horn player and long-time friend of Wagner began to learn the trumpet, rowing out on Lake Geneva to avoid being heard by Cosima.
The result on Christmas day 1870 is described in Cosima's diaries:
When I woke up I heard a sound. It grew louder, I could no longer imagine myself in a dream, music was sounding, and what music! After it had died away, R. came in to me with the children and put into my hands the score for his "Symphonic Birthday Greeting". I was in tears, but so too was the whole household; As a birthday surprise R. had set up the orchestra on the staircase and consecrated our Tribschen forever.
The
Idyll
was performed privately every year for Cosima. It was Richard's statement of love for her. But as their financial troubles grew they were forced to sell it to a publisher. Only then did the world hear about it, and only then did it become known as the
Siegfried Idyll
.
The
Idyll
is a work of utmost delicacy, emotion and tenderness. Some of its themes date back to an unfinished string quartet written in the year Wagner first met Cosima. It is scored for a small orchestra (they had to stand on the staircase after all!) but is commonly performed by a standard orchestra today.
This recording on a 2 CD bargain set combines the
Idyll
with the best-known of Wagner's orchestral music, including the Preludes from
Lohengrin
,
Parsifal
and
Tristan and Isolde
, Overtures from
Tannhäuser
and
Rieni
and
Siegfried's Funeral March
from
Götterdämmerung
(
Twilight of the Gods
). Georg Solti is a Wagner conductor of great renown. His
Ring
cycle is rightly regarded as one of the grear recording achievements of the century. And there is everything here - love, heroism, war and peace.
The
Siegfried Idyll
is Wagner at his best, most rapturous, yet Wagner at his least typical. Even if you don't like (or haven't tried) Wagner's opera's, the
Siegfried Idyll
is impossible not to fall in love with.
Track Listing
Richard Wagner
Favourite Orchestral Works
Georg Solti

Compact Disc 1
Rienzi: Overture
The Flying Dutchman: Overture
Tristan & Isolde: Prelude, Act I
Tannhäuser: Overture
Tannhäuser: Bacchanale
Compact Disc 2
Lohengrin: Prelude, Act I
Siegfrid Idyll
Die Meistersinger von Nürnberg: Prld & Hymn, Act I
Parsifal: Prelude, Act I
Götterdämmerung: Siegried's Funeral March