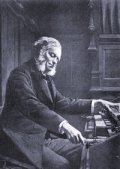 Cesar Franck
The French have always done things a little different. Their food, their fashions, their cars, even their kisses! French music is different too. Its hard to put a finger on it - perhaps a little less heavy in tone, less rigidly ordodox in its melodic and harmonic lines, a little more quirky than its German equivalent.
And in the field of chamber music, French music is a rare creature indeed. The most famous work in this small genre is the
Violin Sonata in A major
by Cesar Franck. The
Sonata
is is very sensual, expressive, full of glorious melodies and utterly French.
We don't hear much about Cesar Franck, yet he was very famous in his day. Born in 1822 in Liège, now a part of Belgium, he became known as a travelling piano virtuoso. He was deeply religious and much of his music for organ and for choir is heavily influenced by his beliefs.
His best-known works, however, have little to do with religion and stem from the final few years of his life. His
Symphony in D minor
, the
Symphonic Variations for piano and orchestra
, and the
Violin Sonata
are all from this period.
Written as a wedding present for a famous Belgian violinist, the
Sonata
is a work that runs the gammut of emotions from passion to subline serenity. The violin part soars over the piano with the most sublime of melodies. The complex and charming echoing finale, the violin and piano parts playing off each other, is justly famous.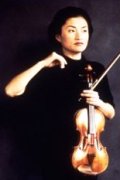 Kyung-Wha Chung
Kyung-Wha Chung has been one of the world's great violinists since 1970 when she made her sensational European debut at the Royal Festival Hall with André Previn. She was awarded the coveted Gramophone Award for her recording of the Bartok second
Violin concerto
with Simon Rattle in 1988. (
Buy it
).
But her real passion is for chamber music, often performing with her brother and sister as the Chung Trio. Their recording of the Beethoven
Piano Trios Opus 11
and
97 (Archduke)
was also highly praised.
Her style of performance, passionate and with true affection for the music, is perfectly suited to these most French of chamber works.

Claude Debussy
The Franck sonata is coupled with Claude Debussy's
Violin Sonata
. If Franck was the old-school of French music, Debussy was the new. His music goes beyond the Viennese
Art Nouveau
that was Franck, and into French Impressionism.
Debussy's
Sonata
takes a bit of getting used-to. Melody and harmony takes a back seat to tonal color and atmosphere. It is dreamy, languid, elegant and fantastic.
The two remaining works, Ravel's popular
Introduction and Allegro for harp, flute clarinet and string quartet
and Debussy's
Sonata for flute, viola and harp
do not feature Kyung-Wha Chung. In fact they were recorded in 1962 by the Melos ensemble.
Yet they fit so perfectly into this program of Gallic elegance. Life would be dull without variety, and this CD will introduce you to some slightly off-center, but truly beautiful music.
Track Listing
Cesar Franck
Violin Sonata in A
And other French chamber works
Kyung-Wha Chung
with Radu Lupu and the Melos Ensemble

Cesar Franck - Violin Sonata in A

Allegretto ben moderato
Allegro
Recitativo-Fantasia
Allegretto poco mosso

Claude Debussy - Violin Sonata

Allegro vivo
Intermede:fantasque et leger
Finale: Tres anime

Maurice Ravel

Introduction & Allegro for harp, flute, clarinet, & string quartet

Claude Debussy - Sonate & trio for flute, viola, & harp

Pastorale
Interlude
Finale