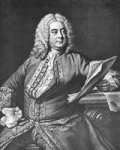 George Frederic Handel
At this time of year, around the world, there will be literally hundreds of performances of
The Messiah
, undoubtedly Handel's most famous work.
It was with
The Messiah
that Handel made his remarkable comeback, a much needed reprieve, as Handel's music was becoming distinctly unpopular. He needed a breakthrough, a complete change in direction of his career, and
The Messiah
fit the bill.
While his compatriot and contemporary Johann Sebastian was German down to his contrapuntal boots, Handel was a man of the world. He travelled to Italy at the age of 21 to study Italian opera, all the rage throughout Europe at the time, and returned to Germany to become court composer in Hannover.
His operatic style so impressed his patron there, who just happened to become King George I of England that he was invited to go to London. Handel leaped at the opportunity to move to Europe's cultural capital.
In London, he wowed them with his glorious Italian operas;
Rinaldo, Ottone
and
Xerxes
were, as we would say today, smash hits. His popularity was at its peak on the 1720's and 30's.
But the fickle finger of fashion turned. The English's taste for embellished opera was fading. They began to prefer the more formal and less showy
oratorio
, music that is sung like opera, but without sets, acting or costumes, and generally more reserved in its style. Handel, the opera specialist, was left floundering, and teetered on bankruptcy.
So he reinvented himself. Handel became an
Oratorio
composer, and in fact refined the genre and with his
Messiah, Israel in Egypt, Judas Maccabeus
, and
Sampson
, he made the style his own. Indeed, he became the Andrew Lloyd Webber of his day.
It was the Charitable Music Society of Ireland that invited Handel to write and perfom his new work,
The Messiah
in 1741 to benefit the inmates of Ireland's debtor's prisons. It was his big break.
Messiah
was unlike anything Handel had written before. Unlike his grand Italian operas, it had no story, no sense of drama or ceremony. Jesus is not represented as an actual dramatic character. Instead it conveys the passion and resurection of Christ through the thoughts of others and the music itself.
The most striking thing about
The Messiah
is its musicality. It is a string of magnificent musical offerings exploring the depths of despair (
"For behold, darkness shall cover the earth"
), joy (
"For unto us a child is born"
), quiet contemplation (the
Pastoral Symphony
interlude) and of course the energy and exhuberance of the
"Hallelujah"
chorus.
And this massive work was written by Handel in a flash of inspiration, some say clinical mania, over just 24 days.
Messiah
was written for the masses and has remained popular ever since. Except, ironically, in England, where many thought it blasphemous that someone (a German no less) could plunder the bible and set it to music for popular consumption. It was forbidden to be performed in Westminster Abbey even as late as the nineteenth century.
There can be no definitive version of any Handel oratorio, let alone one as often played and adapted as
Messiah
. Handel himself added bits, borrowed and removed items as the circumstances saw fit.
Neville Marriner is well-known for his Handel, and this recording is as authentic as any you will find. But the thing that stands out is the freshness that he brings to this old standard. The music comes through as joyous and vibrant, the soloists, especially Elly Ameling, superb.
This recording is a joy from the first note to the last.
Track Listing
George Fredeic Handel
The Messiah
Elly Ameling, soprano
Anna Reynolds, alto
Phillip Langridge, countertenor
Gwynne Howell, bass
Academy of St Martin-in-the-Fields
Neville Marriner
Compact Disc 1

Overture
Comfort ye my people...Every valley shall be exalted
And the glory of the Lord
Thus saith the Lord...But who may abide
And he shall purify
Behold, a virgin shall conceive...O thou that tellesgood tidings to Zion
For behold, darkness shall cover the earth...The people that walked in darkness
For unto us a child is born
Pastoral symphony
There were shepherds, abiding in the field...And lo! the angel of the Lord cam...
Glory to God in the highest
Rejoice greatly, O daughter of Zion
Then shall the eyes...He shall feed his flock
His yoke is easy
Behold the Lamb of God
He was despised

Compact Disc 2

Surely he hath borne our griefs - ASMF Chor/Laszlo Heltay
And with his stripes - ASMF Chor/Laszlo Heltay
All we like sheep - ASMF Chor/Laszlo Heltay
All they that see him...He trusted in God - Langridge/ASMF Chor/Laszlo Heltay
Thy rebuke hath broken his heart...Behold and see - Elly Ameling
He was cut off out of the land of the living...But thou d - Phillip Langridge
Lift up your heads - ASMF Chor/Laszlo Heltay
Unto which of the angels...Let all the angels of God w - Philip Langridge/ASMF Chor/Laszlo Heltay
Thou art gone up on high - Gwynne Howell
Chorus: The Lord gave the word - ASMF Chor/Laszlo Heltay
Duet soprano & alto, chorus: How beautiful are the feet...Break forth into joy - Elly Ameling/Anna Reynolds/ASMF Chor/Laszlo Heltay
Arioso tenor: Their sound is gone out
Air bass & Chorus: Why do the nations so furiously rage together...Let us break
Recitative & Air tenor: He that dwelleth in heaven...Thou shalt break them
Hallelujah
I know that my Redeemer liveth
Since by man came death
Behold, I tell you a mystery...The trumpet shall sound
Then shall be brought to pass...O De
If God be for us - Anna Reynolds
Worthy is the Lamb...Amen