Fryderyk Chopin
Fryderyk Chopin certainly did not invent the Nocturne. That honour goes to the Irish composer John Field (1782-1837).
It derives from the 18th century
Notturno
(also known as
nachtmusik
,
serenade
, night music) and consists of a melody wafting over a chordal baseline. It is usually slow, quiet and serene, designed to played as contemplative music in the evening.
Chopin wrote 19
Nocturnes
and they span his entire short life. And they include some of the best and most popular music Chopin ever wrote. Because of their popularity, they have become almost cliched, finding their way into sentimental movie scores, drippy advertisements and the repertoires of beginner piano students.
But when played well and listened to afresh, they are magical pieces. Chopin's entire fame rests on short, intricately crafted piano pieces. He wrote very little else. Even his two piano concertos are really works for piano with orchestral accompaniment. He was a master of the piano miniature, and his
Nocturnes
include the best of the best.
Most of the
Nocturnes
are structurally very simple, many in simple A-B-A form. They are instantly likeable, and not difficult music. But, not unlike much on Mozart's music, within their simplicity lies a more profound level of deep emotion, expressed so innocently and subtly that it leaves you wondering why you are so affected by such simple music.
Probably most famous is the
Nocturne in E flat, Op.9 No.2
, easily ruined with over-sentimentality, is beautiful when played straight. It evokes the Parisian salons and the elegant aristocracy for whom it was written.
Similarly the
Nocturne in F sharp, Op.15, No.2
with its melody of ravishing beauty, so easily played with saccharine sweetness instead of Arrau's sublime simplicity.
Others, like the
Nocturne in C sharp minor, Op.27, No.1
expresses pathos, tragedy, even hopelessness. Written when Chopin knew that he was sick with tuberculosis, this is as personal a statement as Beethoven's
Missa Solemnis
.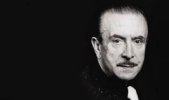 Claudio Arrau
Claudio Arrau was born in Chile in 1903.His carreer spanned most of the twentieth century, giving his first European concert tour aged 10 in 1918 and died in 1991, still actively performing. His mammoth performances of the complete keyboard works of Bach and the complete Beethoven sonatas became legendary.
But his style is perhaps best suited to Chopin; emotional without being sentimental. Elegant but not ostentatious. Arrau is the perfect gentleman. And his Chopin
Nocturnes
are perfect little diamonds. Spend a quiet summer evening rediscovering the real Chopin nocturnes.
Track Listing
Fryderyk Chopin
Complete Nocturnes and Impromptus
Claudio Arrau

DISC 1

Nocturnes No.1 in b flat, Op.9 No.1
Nocturnes No.2 in E flat, Op.9 No.2
Nocturnes No.3 in B, Op.9 No.3
Nocturnes No.4 in F, Op.15 No.1
Nocturnes No.5 in F#, Op.15 No.2
Nocturnes No.6 in g, Op.15 No.3
Nocturnes No.7 in c#, Op.27 No.1
Nocturnes No.8 in D flat, Op.27 No.2
Nocturnes No.9 in B, Op.32 No.1
Nocturnes No.10 in A flat, Op.32 No.2
Nocturnes No.11 in g, Op.37 No.1
Nocturnes No.12 in G, Op.37 No.2
Nocturnes No.13 in c, Op.48 No.1
Disc 2

Nocturnes No.14 in f#, Op.48 No.2
Nocturnes No.15 in f, Op.55 No.1
Nocturnes No.16 in E flat, Op.55 No.2
Nocturnes No.17 in B, Op.62 No.1
Nocturnes No.18 in E, Op.62 No.2
Nocturnes No.19 in e, Op.72 No.1
Nocturnes No.20 in c#, Op. posth.
Nocturnes No.21 in c, Op. posth.
Impromptus No.1 in A flat, Op.29
Impromptus No.2 in F#, Op.36
Impromptus No.3 in G flat, Op.51
Impromptus No.4 in c#, Op.66: Fant-Impromptu