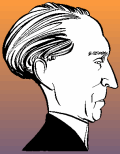 Joseph Canteloube
In cultural terms, the word
globalism
has both positive and negative meanings. On one hand we are free to experience ideas, music and art from all over the world. On the other, it implies the spread of the mediocre, and the mass-produced.
Musicologists at the turn of the twentieth century such as Bartok in Hungary and Joseph Marie Canteloube in France saw this force over-running small, isolated pockets of culture. They feared that the music of these musically rich communities would be lost in the tide of progress.
They and many others set out to gather the folk music of their regions, record them, catalogue them and preserve them for posterity. Some, such as Bartok then based many of their compositions on their collected treasures, developed and modified almost beyond recognition. Others, especially Canteloube, were much more faithful to the original.
Joseph Marie Canteloube was born in Annonay, central France, in 1879. The area, known as the Auvergne, is known for its rich soil, its Massif Central, an ancient extinct volcano and its expanse of dense forests. Its people are descendents from the Arvernes, a fiercely independent group of people who escaped to the area from the Romans in 120 AD.
Canteloube fell in love with the music of these peasant folk in his childhood and as an adult he returned to the area to collect their songs. He also collected music from many other regions of France and Spain, including Catalonia, Alsace, Languedoc and teh Basque region. He editied a massive volume called the
Anthologie des chants populaires francais
and wrote extensively promoting regionalism. He saw the dangers of globalism even before the term had been invented.
But he is best known today for his collection of 30 folk songs from his own homeland which he called
Chants d'Auvergne
or
Songs of the Auvergne
. They have the charm and simple beauty of folk songs set to his own piano or more commonly orchestral accompaniment and many have become concert hall staples.
Canteloube arranged the 30 songs into 26 musical works, in four volumes. The most famous is surely the
Bailero
a breathtakingly nostalgic work that evokes the beauty of the landscape of the Auvergne. Others are lively (
Lou Coucut
- The Cuckoo), flirtatious (
La Pastrouletta e lou Chibalie
- The Shepherdess and the Suitor) and supremely sorrowful (
La Delaissado
).
The songs are in thick Provence dialect known as
langue d'Oc
and includes many nonsense words and passages. Quite a feat to sing authentically. Sufice to say that this is perhaps Kiri Te Kanawa's greatest recording. She sings it to perfection.
Dame Kiri, as she is now known, was born in New Zealand to an Irish mother and a Maori father, descended from a great Maori warrier Te Kanawa. Her musical talent was evident from childhood, and in 1966 won a scholarship to study in London. She became world famous when she was chosen to sing at the wedding of Prince Charles and Lady Diana in 1977, and has since performed everything from high opera, to Maria in Leonard Bernstein's
West Side Story
and simple Maori tunes.
Kiri Te Kanawa has a powerful, almost regal voice that is also sweet and approachable, perfectly suited to the words of the French peasant. She does not let musicality overcome the humanity of these songs, and brings a freshness to them that makes 90 minutes extremely listenable.