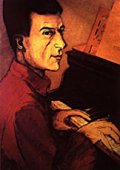 Maurice Ravel
Take any piece of music and strip it of its most basic elements. Remove the melody completely. Excise the harmony. Take away all of its rhythmic structure. And what are we left with?
What is left is the most basic quality of sound, the tone, the timbre, the color. Much of the mood of a piece of music is created by this orchestral color, this almost undescribable essence that the composer constructs as carefully as he does the melody and other elements.
And Maurice Ravel was an absolute master of the creation of orchestral color. As an example, his orchestration of Mussorgsky's
Pictures at an Exhibition
so captured the varying moods of each piece, from biting wit to sombre threat, that his version has become much more popular than Mussorgsky's original.
Ravel fits into no clear-cut pigeonhole of compositional style. He was certainly influenced by the Impressionist movement that captured Debussy's heart, and the
art nouveau
richness of Wagner and Strauss. But he created a style all his own, melodic, very French, but above all rich in color.
[an error occurred while processing this directive]
In November 2002 EMI released a 8 CD boxed set of the complete orchestral works of Ravel and Debussy, recorded by the Paris Orchestra with Jean Martinon. This was a huge box of treasures, of both familiar and almost unknown works. For those wanting just the best known works of Ravel, they extracted 2 CD worth of the best on this current CD. Lets have a look at what lies within its covers.
Bolero
Bolero began as an experiment in composition and became Ravel's most famous piece of music. Commissioned as a Spanish-flavoured ballet, Ravel created an entire orchestral composition from just one short theme, slowly, steadily building in volume and tone. Ravel himself referring to it as a "
piece for orchestra without music
",
Bolero
proves that with just a variation in orchestral color, 15 minutes of simple repetition can be a masterpiece. It has since acheived a degree of infamy having been used to accompany an erotic scene in the movie
10
starring Bo Derek and Dudley Moore.
Ma Mere L'Oye
A ballet based around several Mother Goose stories from childhood, with
The Sleeping Beauty
linking them together. Originally for piano four hands, Ravel orchestrated it again to add tonal color and convert it from a simple piano piece to an orchestral ballet. The 12 episodes reveal Ravel at his most tender.
Rapsodie espagnole
Ravel's mother was Spanish, so it comes as no surprise that he inherited a love for the music of Spain. is
Rapsodie Espagnole
is an exercise is combining Ravel's unique orchestral style with genuine Spanish music. The result, written when Ravel was at the height of his powers and given the stamp of approval by Manuel de Falla, is a richly evocative piece of four movements, based on four Spanish dances. It remains one of his most popular pieces.
Sheherazade
Ravel always held a taste for the exotic. The
Arabian Nights
inspired him to write an opera about Sheherazade, the Sultan's wife who told endless tales to avoid her fate. The overture is Ravel's first orchestral work, but the rest of the opera was never completed.
La Valse
La Valse
was commissioned by Diaghilev for yet another ballet. Ravel's score depicts a courtly waltz that sways and swoops, twists and distorts getting wild and disturbing until it becomes almost an anti-waltz. Diaghilev rejected the score as being unsuitable for a ballet, to the fury of Ravel. Yet it has become a concert favourite, with Ravel's defiant description of it as a
poeme choregraphique pour orchestre
.
Valses nobles et sentimentales
Inspired by Schubert and the lilt of Viennese waltzes, these eight pieces were premiered without Ravel's name on the program. It was left to the audience to guess the composer after it was played. Orchestrated in such a unique style, but with such strong hints of tradition, the listeners guessed from Mozart, through Schubert and even Wagner. Yet again a piano work which Ravel later orchestrated, it opens with their a complex chromatic sequence quite unlike anything heard before. Nostalgic, sweet and quietly complex, one of Ravel's most original works.
Le tombeau de Couperin
Le tombeau de Couperin
is Ravel's tribute to the heritage of French keyboard music, especially that of Couperin. Ravel's intention was never to imitate or even quote the baroque master, but to incorporate the baroque keyboard technique into his own style. The "tomb" of the title has a second significance. Written from 1914-1917, the six movements in the original piano version (only four of which were orchestrated) are each dedicated to six friends of Ravel who died during the First World War. It is a deeply personal work, suffused with pathos and patriotism.
Pavane pour une Infante defunte
The
Pavane
based on a slow, stately Renaissance dance, is a gentle and nostaligic evocation of the loss of childhood. The
infanta
does not refer to an infant specifically, but is the term for a Spanish Princess. Ravel is at his most refined and delicate in this short piece.
This set of 2 CDs at bargain price reveal the complex spectrum of Ravel, from the wild exuberance of the
Rapsodie Espagnole
, the peverse wit of
La Valse
and the refined and sentimental nature in this final work. Perfomed here by the very French Paris Orchestra and Jean Martinon, in all its Gallic elegance.
It loses one star for not including
Daphnis and Chloe
but then again, you could get this (and all of Debussy too!) on the
boxed set of complete works
. Otherwise an excellent collection of well-known and less well-known Ravel, exquisitely perfomed.
Track Listing
Maurice Ravel
Famous Orchestral Works
The PAris Orchestra
Jean MArtinon
Disc: 1
Bolero


Miroirs, No. 3: Une Barque sur l'ocean

Ma Mere L'Oye
Prelude (Tres lent)
1er Tableau: Danse du Rouet et scene
2eme Tableau: Pavane de la Belle au bois dormant
Interlude
3eme Tableau: Les entretiens de la Belle et de la Bete
Interlude
4eme Tableau: Petit Poucet
Interlude
5eme Tableau: Laideronnette, Imperatrice des Pagodes
Interlude
6eme Tableau: Le jardin feerique


Miroirs, No. 4: Alborada del gracioso

Rapsodie espagnole

Prelude a la nuit
Malaguena
Habanera
Feria
Disc: 2
Sheherazade: Ouverture de feerie


La Valse - Poeme choregraphique

Le tombeau de Couperin

I: Prelude
II: Forlane
III: Menuet
IV: Riguadon


Menuet antique

Pavane pour une Infante defunte Valses nobles et sentimentales

I: Modere
II: Assez lent
III: Modere
IV: Assez anime
V: Presque lent
VI: Assez vif
VII: Moins vif
VIII: Epilogue - Lent