Aaron Copland
Aaron Copland's life spanned most of the twentieth century, yet he is best-known for music that he wrote during a very short period, from 1938 to 1944. It was during this six years that he wrote his three ballets
Billy the Kid
(1938),
Rodeo
(1942) and
Appalacian Spring
(1943-44) as well as
Fanfare for the Common Man
and
A Lincoln Portrait
.
This time and style has become known as Copland's populist period.
It was not always like this. Copland was one of the first Americans to travel to Paris and absorb the modern rhythms and harmonies of Europe. He brought them back to America, laced it with his own jazzy style and wrote music that was difficult, dissonant and jarring.
At the 1925 premier of his first major work, the
Symphony for Organ and Orchestra
by the conductor Walter Damrosch commented
"Ladies and gentlemen, I am sure you will agree that if a gifted young man can write a symphony like this at 23, within five years he will be ready to commit murder!"
A joke that was clearly tongue-in-cheek. Copland went on to write some of the most recognisable and best-loved music of the United States. His style mellowed. His orchestrations became smoother and easier on the ear. And most importantly his inspiration came not from the traditions of Europe, but from the streets of his fellow countryman. Copland made a conscious decision to write music for the people.
The most quintessential of his works is
Appalacian Spring
. This is the music that is most associated with Copland - open and expansive like the landscape he depicts, yet personal and intimate. With folk tunes as his inspiration, Copland defined post-Jazz American music.
The story of the birth of
Appalachian Spring
and how it got its name is a convoluted one. The Library of Congress commissioned Copland to write the score for a new ballet, and Martha Graham to do the choreography.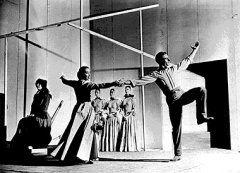 Martha Graham, Erich Hawkins and a rather spartan
set for the first performance of
Appalachian Spring
in 1944 at the Library of Congress
Coolidge Auditorium, Washington DC.
Martha Graham gave Copland a simple scenario: a new frontier town in Pennsylvania, a young couple's wedding and house-raising. Due to the size of the auditorium in which it was first performed, Copland scored it for a chamber ensemble of 13 string and wind instruments and titled it simply
Ballet for Martha
.
It remained with this name until the day before its premier. Martha Graham gave it its present day title
Appalcahian Spring
after a poem by Hart Crane:
"O Appalachian Spring! I gained the ledge;
Steep, inaccessible smile that eastward bends
And northward reaches in that violet wedge
Of Adirondacks!"
At its final rehearsal Copland approached Graham and asked "
Martha, what have you named the ballet?
". Graham told him "
Appalachian Spring
". Copland said "
That's nice, but does it have anything to do with the ballet?
" She replied "
No, I just like the title
".
Copland has often said that since then people have come up to him and told him they could see the Appalachians and feel the spring when they hear his music. Especially ironic when you realise that the Hart Crane poem is descibing a wellspring, not a season.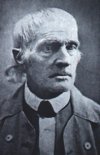 Joseph Brackett
And yet the name is appropriate. Both Copland and Graham were working to the same scenario which did include the Appalachians and spring, the trials and rewards of a new life.
Copland's music is almost all original, except for the final melody, taken from a Shaker hymn
Simple Gifts
written by Shaker Elder Joseph Brackett. Copland weaves an intricate set of variations around this beautiful melody.
'Tis the gift to be simple,
'tis the gift to be free,
'tis the gift to come down
where we ought to be,
and when we find ourselves in the place just right,
'twill be in the valley of love and delight.
When true simplicity is gained
to bow and to bend we shan't be ashamed,
to turn, turn, will be our delight
till by turning, turning we come round right.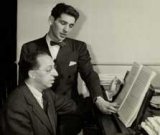 Aaron Copland and Leonard Bernstein
Leonard Bernstein, almost 20 years Copland's junior was his lifelong friend and advocate. Bernstein and the New York Philharmonic became known for their performances of Copland's works. Bernstein even wrote a short piano section in Copland's
Rodeo
.
This recording presents both Copland and Bernstein at their best. It includes the classic recording of Bernstein conducting Copland's music, regarded as better than Copland's own recording from the 1970's. And performed by the New York Philharmonic, who know this music better than anybody else. Hey, they virtually own it! They certainly relish playing it.
This CD represents Copland at his most accessable. Simple, folksy, fun. The music reminds us of a more simple time in history. Perhaps it is because of the world's troubles today that people are reaching back to these more basic values that this CD is top of the classical charts again. Or maybe its just because it is great music and a wonderful performance.
Track Listing
Aaron Copland
Appalachian Spring

and other famous works
Leonard Bernstein
New York Philharmonic Orchestra

Appalachian Spring

Very Slowly
Allegro
Moderato
Fast
Subito Allegro
As At First (Slowly)
Doppio movimento
Moderato - Coda

Rodeo

Buckaroo Holiday - Allegro con spirito
Corral Nocturne - Moderato
Saturday Night Waltz - Introduction - Slow Waltz
Hoe-Down - Allegro

Billy The Kid
Introduction. The Open Prairie
Street In A Frontier Town
Mexican Dance And Finale
Prairie Night (Card Game At Night)
Gun Battle
Celbration (After Billy's Capture)
Billy's Death
The Open Prairie Again


Fanfare for the Common Man: Molto deliberato