Andreas Scholl
I recently had the pleasure of seeing and hearing the countertenor Andreas Scholl and the Australian Brandenburg Orchestra in concert in my home town of Canberra, Australia.
I was a novice, a sceptic; I was expecting a falsetto effeminate voice, a poor imitation of the female soprano or alto.
What I got absolutely floored me; two hours of the most sublime voice I had ever heard. Unusual, certainly, but only for the first few minutes. Once I became accustomed to it, it became natural, smooth and mellow. An immensely wide range, but very masculine even at its highest. Powerful, subtle and captivating.
Thus I was introduced to the art of the countertenor, and I've been hooked ever since.
The Castrati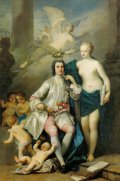 Carlo Broschi Farinelli
The countertenor is the modern-day equivalent of the castrato of the baroque. The castrati were men who had been castrated as boys to preserve their beautiful singing voices. The larynx, which determines the pitch of one's voice enlarges permanently at puberty. In the painting of Farinelli, his neck is discreetly covered by a lace collar to hide his lack of an Adam's apple.
The church and society frowned upon women perfoming on stage. Their soprano singing roles were commonly sung by pre-pubescent boys but the castrati soon took over these positions. They had a maturity of tone unmatched by the younger boys, and were accepted in sacred music by Papal decree in 1599.
The castrati were highly prized and respected in the baroque era, and many went on to make great forunes. As a bonus, they often lived much longer than other men due to the lack of testosterone. They were especially popular with women as any liaison with a castrato would, of course, have no risk of pregnancy.
Despite the illegality of castration (often done under the excuse of illness or injury), and the obvious pain and risk of the procedure, no wonder the position of castrato was regarded as a popular way for a poor boy to make it big in the musical world.
Castrati became less and less popular in the nineteenth century. Musical tastes changed, social structures reformed. The last castrato was Alessandro Moreschi who died in 1922, leaving a legacy of 17 poor quality recordings.
The Countertenors
With the decline and even backlash against the castrati, many great vocal works fell by the wayside. Much of Vivaldi's sacred choral music, most of Handel's operas and innumerable songs were left without a singer.
In the 1950's and 60's, Alfred Deller revived the high pitched style using a thin falsetto voice that was really suitable only for singing songs accompanied by a single lute.
Then in the 1980's and 90's something remarkable happened. Countertenors began springing up everywhere. These singers had the gift of a true high pitched singing voice, without artificial straining, and full of power. A 1988 production of Handel's
Julius Caesar
with David Daniels as the countertenor paved the way for the style to re-emerge.
Now in addition to Daniels, we have Andreas Scholl, Brian Asawa, Daniel Taylor, David Walker, Bejun Mehta, Dominique Visse and a host of others. Paralleling the orchestral trends for original instruments, the field of the countertenor is getting crowded.
Andreas Scholl

Andreas Scholl
"Scholl's voice is pure and beautiful in sound, his taste exquisite, his pitch and diction immaculate. It is inadequate to compare Andreas Scholl to many other countertenors now working, even the finest of them."
- Fanfare Magazine
Andreas Scholl will put to rest any thoughts of a countertenor as effeminate. The 34 year old German singer is well over 6 foot tall, solidly built and speaks with a deep baritone voice. He found in his teens, well after his voice broke, that he could still carry a soprano line with ease.
The result is a voice like no other. He has a range from a startlingly deep baritone to mid soprano. But it is his tone that separates him from the pack - neither clearly masculine nor feminine, velvet smooth, effortless, with perfect articulation and intonation. Every line is crafted to fit the words perfectly. In short, to hear Andreas Scholl is a unique and beautiful experience.
Vivaldi's Nisi Dominus
From the very start, Scholl had requested to work with the Australian Brandenburg Orchestra and its artistic director Paul Dyer. Decca, the recording company, was agast. Why choose a small, relatively unknown orchestra on the other side of the planet when there were so many fine baroque ensembles in England? Scholl's persuading paid off. The recording has a brightness and freshness, a product of the very young orchestra and the vitality of its director. Its beautiful and its fun!
The
Nisi Dominus
is not as well known as the famous
Gloria
and is certainly more restrained, more muted. But in its quiet depths, there is a spiritual beauty that the
Gloria
lacks. While Vivaldi wrote it for adolescent girls at his orphanage, Scholl's performance is sublime, if not exactly authentic.
The other Vivaldi motets, all somewhat rarities, are similarly beautiful. Scholl's voice transports the listener to another world. The concerto interludes balance the tone wonderfully.
This is a CD that rivals in exhiliration a live performance of absolute masters who obviously love their subject. For the ever-growing army of Andreas Scholl fans, this CD is a must-have. And for the sceptical, like me, it will make you a convert.
Track Listing
Antonio Vivaldi
Nisi Dominus, motets
Andreas Scholl, countertenor
Australian Brandenburg Orchestra
Paul Dyer
Nisi Dominus, RV 608

Allegro
Vanum Est Vobis: Largo
Surgite Postquam Sederitis: Presto
Cum Dederit Delectis Suis Somnum
Sicut Sagittae In Manu Potentis: Largo
Beatus Vir Qui Implevit: Andante
Gloria Patri: Larghetto
Sicut Erat In Principio: Allegro
Amen: Allegro

Concerto For Strings In F Major, RV 141

I: Allegro Molto
II: Andante Molto
III: Allegro Molto

Clarae stellae, scintillate, RV 625

Clarae Stellae, Scintillate: Allegro
Coeli Repleti Iam Novo Splendore: Recitativo
Nunc Iubilare: Allegro
Alleluia: Allegro

Concerto For Strings In C Major, RV 109

I: Allegro
II: Adagio
III: Allegro Molto

Vestro Principi divino, RV 633

Vestro Principi Divino: Allegro
I Felix Culpa: Recitativo
Quid Loqueris Ad Cor: Presto
Alleluia: Presto

Salve Regina, RV 616

Salve Regina: Andante
Ad Te Clamamus: Allegro
Ad Te Suspiramus: Larghetto
Eia Ergo: Allegro
Et Jesum: Andante Molto
O Clemens: Andante