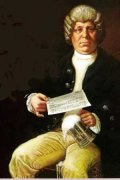 PDQ Bach
In the early 1960's, musicologist Professor Peter Schickele made an amazing discovery. It was a discovery that was to rock the classical musical world into stunned silence.
Schickele had come across music written by a completely new Bach, a late son of the great Johann Sebastian. A son completely rejected by his family to the point that his tombstone bears the dates 1807-1742 in an attempt to obscure the fact that he could ever have been related to the great JS.
The Bach family had good reason to disinherit PDQ Bach. His life was a torrid affair of alcohol, lechery and bad taste. The only thing that kept his music afloat was his family name. He borrowed heavily from his contemporaries Mozart, Haydn and Beethoven, both in cash and in musical ideas.
And yet in many ways, P.D.Q Bach was ahead of his times. This was the era of revolutions, of radical thinking, of new and brilliant ideas. None of which was reflected in his music. In short, P.D.Q Bach was a disgrace to his family, and his music quickly fell into obscurity. Not quickly enough say some.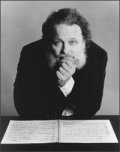 Peter Schickele
For the uninitiated, P.D.Q Bach is the fictional comic creation of Peter Schickele who describes him as the "last and certainly least" of the sons of J.S.Bach. He is a vehicle for Schickele's musical hilarity, and is responsible for a dozen recordings, an Emmy award and a yearly concert of his latest "discovered" works.
Too often in the classical music world, we get caught up in the seriousness of the art, discussing the finer details of a particular conductors rendition of an obscure work. We need to lighten up!
The very clever Schickele writes music in the name of P.D.Q Bach which pokes fun at the greatest classical works, but at the same time, by poking fun, he demonstrates the utmost respect for it.
Who else would make Beethoven's Fifth Symphony the subject of sports commentators? P.D.Q Bach does in
New Horizon's in Music Appreciation
, possibly the funniest segment of classical music ever written. And yet, without realising it, you actually learn about the music too. The ideas of themes, motifs, cadenzas, solos and even sonata form recapitulations are painlessly expressed.
The very names of his compositions are fabulously clever:
The Short Tempered Clavier, A Little Nightmare Music, Missa Hilarious, Safe Sextet, the Erotica Variations
and the
1712 Overture
amongst dozens more.
The most clever thing about P.D.Q Bach's music is that the more you know classical music, the funnier it gets and the more of the references you understand. He parodies the styles of each period, the lives of the great composers, even particular harmonies and well-known themes.
Who else but P.D.Q Bach could play Bach's C major Prelude from the Well-Tempered Clavier in the style of Phillip Glass and bring it off so well. P.D.Q Bach does in
Einstein on the Fritz
.
And Schickele's music itself is actually very good at being very bad. He recreates a style so exactly, with such subtle accentuation or exaggeration that its funny. Schickele is, during normal working hours, a serious composer having written symphonies, string quartets, movie scores and a large body of serious bassoon music (seriously! - the bassoon was his first instrument). And when you peel away the humour in his P.D.Q Bach, what's left is really good stuff.
This 2 CD recording,
The Wurst of P.D.Q Bach
is Schickele's earliest, and funniest set. It has a wide variety of styles from baroque parody to classical parody to general music parody. It is a live recording, which brings out the best of P.D.Q Bach, and thankfully does away with the intervening monologues that marr the later recordings.
The
Wurst
is Peter Schickele and P.D.Q Bach at their best.
Track Listing
P.D.Q Bach
[pseudonym of Peter Schickele]
The Wurst of PDQ Bach

Disc 1
Concerto for Horn & Hardart, S27
Iphigenia in Brooklyn, cantata, S53162
New Horizons in Music Appreciation for orchestra & commentators Beethoven's Fifth Symphony
Schleptet in E flat, S.
What's My Melodic Line?
Triumphs of Thusnelda
Disc 2
Unbegun Symphony
Stoned Guest, half-act opera highlights
Toot Suite for calliope 4-hands, S212§, (O. K Chorale)
Seasonings, oratorio, S1/2 Tsp