As the twentieth century came to a close, Deutsche Grammaphon released a series of CDs that encapsulate the music of the century. Their 20/21 series brings out the best, if not the best-known music composed in the latter half of the last century.
This CD is an unusual coupling on first encounter. Three very different works spanning over 30 years by three very different composers, Philip Glass, Ned Rorem and Leonard Bernstein. Three American concertos for violin and orchestra which demonstrate the wide scope for this genre, played by an exeptional violinist.
Philip Glass - Violin Concerto

Philip Glass
There's a joke about Philip Glass. It goes like this:
Knock, Knock
Who's There?
Philip Glass. Knock, Knock
Who's There?
Philip Glass. Knock Knock.
Etc
If you know the music of Philip Glass, you'll get the joke. If not, a little explanation is in order.
Philip Glass is the most famous exponent of the
Minimalist
technique of composition, where a small fragment of music is repeated over and over, with small changes over time, until it becomes something quite different. This is not a new or even a Western invention. There are cultures in Mongolia, North Africa and central Europe with this idea has been used for centuries.
But Glass and his ilk have advanced this form to a distinct branch of modern classical music. You either love it ("Its mesmerizing!") or hate it ("Its pointless and boring!"). But read on regardless. You may yet become a convert.
Glass's early style was true to its minimalist roots. It was spartan, repetitive, very slowly evolving. His seven piece group of players, the Glass Ensemble, struggled to make a living at first, but became immensely popular in the mid-1970's.
He capitalised on his success with some large-scale operas, notably
Einstein on the Beach
,
Akhnaten
and
Satygraha
, about three greats of history and science, have become quintessential minimalist works.
Glass has since bridged the serious-popular divide and is now in greatr demand as a writer of film scores. His music for
Kundun
,
The Secret Agent
and most recently
The Hours
have made him a household name.
His violin concerto is the best example of his mature style, and his first purely orchestral concert work. Gone is the focus on spartan repetitive rhythms and hypnoticly shifting triads. In his violin concerto, Glass displays on melody, emotion and even lyricism.
Sandwiched between two very fast, furious and virtuoso outer movements, the central slow movement is the heart of the work. Over a darkly pulsating background, the violin rises into a passionate and beautiful song, floating, descending, sometimes intertwining with the orchestra, but mainly free from all constraints. This is far removed from the mathematical stereotype of Philip Glass. This is beautiful music by anyone's standards.
Ned Rorem - Violin Concerto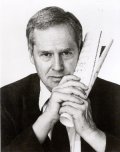 Ned Rorem
Ned Rorem is an cultural oddity. A writer, composer, teacher and raconteur, he is as famous for his music as he is for his rather explicit diaries that he published in the 1960's.
His music has been regarded as too tonal, to narrow, to straight (ironic given his personal life), but more recently there has been a revival of interest in Rorem's music. It shows the influence of Debussy, Poulenc and Ravel but jazz, blues, American folk and popular melody are also part of it.
His
Violin Concerto
is made of six movements, each with a title descibing a mood or form. Its a mish-mash of styles, a traffic-jam of ideas. Fast, slow, comic, serious, melodious and complex. Listen a few times. It grows on you.
Leonard Bernstein - Serenade for violin and orchestra

Leonard Bernstein
And so to Leonard Berstein's
Serenade
, a violin concerto in all but name. The music depicts a dialogue between Socrates and his followers concerning the nature of love, as recorded by Plato in his
Symposium
. In its six movements, love is described by the various philosophers as comic, ethereal, purely scientific, rapturous and all-powerful. Far from a stolid discussion, this debate is laced with plenty of wine, gets quite out of hand and fun had by all.
Gidon Kremer - violin

Gidon Kremer
Born in Latvia, the son of two orchestral violinists, Gidon Kremer showed prodigious talent even as a child. He studied with David Oistrach, and burst onto the Western musical stage with his recording of the Brahms violin concerto in 1975. Herbert von Karajan declared him to be the greatest violinist of the age.
Kremer is most famous for championing new music and for new interpretations of old works. His style is technically brilliant, but never showy. His premier recording of the Glass violin concerto has never been bettered, and is perfect for his style.
So here we have three modern works for violin. The Glass is world-class music, an instant classic. The other two works are curiosities. While not in the same league, they are certainly interesting. And Kremer's performance is breathtaking.
Track Listing
Philip Glass
-
Violin Concerto
Ned Rorem
-
Violin Concerto
Leonard Bernstein
-
Serenade for violin and orchestra
Gidon Kremer - violin
New York, Vienna and Israel Philharmonic orchestras
Philip Glass - Violin Concerto

I. Quarter Note = 104 - Quarter Note = 120
II. Quarter Note = Ca. 108
III. Quarter Note = 150 - Coda: Poco meno Quarter Note = 104

Ned Rorem - Violin Concerto

1. Twilight: Free And Spacious - attacca
3. Romance Without Words: Hardly Moving
4. Midnight: Slow
5. Toccata-Rondo: Very Fast
6. Dawn: Wistful

Leonard Bernstein - Serenade (after Plato's Symposium), for violin & orchestra

I. Phaedrus - Pausanias: Lento - Allegro marcato
II. Aristophanes: Allegretto
III. Erixymachus: Presto
IV. Agathon: Adagio
V. Socrates - Alcibiades: Molto tenuto - Allegro molto vivace