Sviatoslav Richter
In the 1950's, the world was gripped by the icy hand of the Cold War. Americans heard very little from within Russia, and Russians heard nothing from the outside world.
Very few musicians from the USSR were ever permitted to travel abroad. Emil Gilels was one of these. His fame had grown so immense in the West that the Russians simply could not contain him, and probably intended to use him as propaganda.
At the end of one of his concerts in the US in the mid 1950's, receiving adulation from all his concerts, Gilels let slip a great secret. "
Wait till you here Sviatoslav Richter
"!
And a Russian secret he was. Music-lovers in the West had heard of rumors of a titan of the piano within Russia, including a few recordings of poor sound quality, but strangely, they could not see him live in concert. Richter's father was German, and disappeared during Stalin's purges of the 1950's. Despite his growing fame, Richter junior was not given permission to travel outside of Russia until the late 1960.
In 1958, Richter made history in the west not as a pianist, but as a juror for the First Tchaikovsky Competition in 1958 in Moscow. Richter was so impressed by the playing of American
Van Cliburn
, and so outraged by the other jurors pandering to Stalin's wishes, that he awarded Cliburn a perfect 25 out of 25, and the other contestants zero.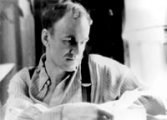 Sviatoslav Richter
By 1960, Richter's fame was so huge, the Russian authorities could contain him no longer, and in May he toured the United States. The concerts were huge successes, and his Carnegie Hall recital was recorded for posterity.
It is this recording, with encores, that is this weeks review, a portrait of a legendary performer, rather than any particular work.
After this 1960 tour, Richter became one of the best-known and most respected pianists in the world, famous for his technique, his choice of repertoire and his volatile personality.
Above all, he was famous for his Prokofiev. This recording of the Sixth Piano Sonata (the first of the so-called
War Sonatas
) has become the stuff of legend. Richter premiered the work, perfomed it in front of Prokofiev himself, to great approval from the composer, and also premiered the Seventh, Eighth and Ninth which was dedicated to him.
Prokofiev suits Richter perfectly. Russian, sharply witty and explosive. And yet Richter could perform almost anything. His Bach is subdued, subtle, reverent. His recording of the
Well-Tempered Clavier
is regarded in some circles as definitive.
He also championed works largely neglected by other pianists, the Haydn and Schubert sonatas in particular.
And French music of course. Richter loved France, establishing an annual music festival, the
Fetes Musicales en Touraine
at Meslay, near Tours and spending almost every summer there for the rest of his life. His performances of Ravel and Debussy are magical, floating.

Sviatoslav Richter
Most of Richter's best recordings are from live concerts. Completely opposite to Glenn Gould (who described the concert hall as a circus), Richter described the recording studio as a torture chamber. This leaves us with a legacy of incredible recordings but unfortunately with some fairly average sound quality. His Sofia recital of Mussorgsky's
Pictures at an Exhibition
is famous for two things: magnificent interpretation and lousy sound, at times drowned out by audience coughing.
Fortunately, while live,
Richter Rediscovered
has magnificent sound (for 1960). The first CD contains one of his famous Haydn sonatas, some Chopin, selected Rachmaninov Preludes and the magical Ravel.
CD 2 is largely Prokofiev, the famous Sixth Piano Sonata and the fleeting, whimsical
Vision Fugitives
, as well as 5 encore pieces by Chopin, Debussy and more Prokofiev.
This double CD is a moment in time and history, a great pianist launched onto the world stage. And an excellent introduction to Richter's art; powerful, prickly and superbly poetic.