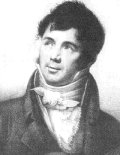 Fernando Sor
The story of Andres Segovia really begins with Fernando Sor. Sor (born 1778, died 1839) was a composer who dabbled in all the classical genres, but is now remembered soley for his compositions for the guitar.
The guitar has always had a bad reputation in the classical music world. For most of history, it was not even regarded as a classical musical instrument. While compositions for the lute were popular in the renaissance and early baroque, the landscape dried up soon after Bach's Suites for Lute. The guitar was a peasant's instrument simply strummed as an accompaniment to popular songs.
Fernando Sor went part of the way to rectify this. He managed to combine his knowledge of classical forms with his love of the guitar to produce dozens of works for classical guitar. He was the first to write guitar music that was not simply strummed as chords, but music with separate voices, and even contrapuntal music.
Even so, the guitar languished throughout the 18th and 19th centuries.

Andres Segovia
Andres Segovia was born in 1893, and took to the guitar as a child. His parents objected and sent him away for cello and piano lessons. Little Andres persisted with the guitar and his parents became even more opposed.
Finding no teacher of guitar at the Granada Institute of Music, Andres Segovia became self-taught. His parents' opposition only strengthened his resolve and he became determined to elevate the guitar to the concert stage and promote it as a respectable classical instrument.
He made his debut age 15 and gave his first professional performance in 1924 in Paris. He was an instant success. His playing attracted praise from even those who went to his concerts as sceptics.
In the space of a few years, he travelled to London, New York, Europe and Asia giving concerts to packed halls. Very soon, composers were writing works for Segovia and his guitar. The most famous was Hector Villa-Lobos, his melancholic melodies and cello-like sonorities suited the guitar perfectly.
Joachim Rodrigo wrote his very famous
Fantasia para un gentilhombre
specifically for Andres Segovia.
A large part of Segovia's success was from his arrangements of Rennaissance, Baroque and Classical works for the guitar. He arranged a huge amount of Bach's music, including the Lute Suites, Cello Suites and Violin Sonatas and Partitas. His rendition of Bach's Chaconne from the Partita for solo violin No. 2 in D minor is a masterpiece - none of the power or complexity is lost and it is written so sympathetically that it is as if Bach had intended it for the guitar all along.
What Segovia found was that the sound of the guitar had trouble filling an entire concert hall. He experimented with new materials, woods, finishes and building techniques to design the modern classical guitar with a fuller, richer sound.
By the 1940's and 50's, Segovia had established the guitar as a respectable classical instrument. His aim was to do even more. He wanted to pass on the legacy to future generations.
Segovia established schools of guitar throughout several universities and music schools around the world. He took on students of his own. The current crop of classical guitarists, Christopher Parkening, John Williams, Elliot Fisk and Oscar Ghiglia are all Segovia protogés.
Andres Segovia continued to perform well into his nineties. He was celebrated by the King of Spain, received honorary degrees from around the world, established the Andres Segovia International Guitar Competition and had the rare privilege of performing at his own 75th anniversary of his debut concert.
This set of 4 CD's was issued to commemorate the 15th anniversary of Segovia's death. It includes a very comprehensive set of Segovia recordings from 1952 to 1969. The sound, some mono but most stereo, has been beautifully remastered to reveal the beautiful tone of Segovia's playing.
The real treasure of this set is the huge variety within the music. We get Segovia-transcribed versions of Renaissance music and Bach, much of the original Fernando Sor, the celebrated Rodrigo
Fantasia
and much, much more, music of every form.
This wonderful set demonstrates why Andres Segovia is called the father of the classical guitar.
Track Listing
Andres Segovia
The Segovia Collection
Fantasía para un gentilhombre, for guitar & orchestra
Joaquin Rodrigo
Performed by Symphony of the Air
Andres Segovia, guitar
Conducted by Enrique Jorda


Concierto del sur for guitar & orchestra
Manuel Ponce
Performed by Symphony of the Air
Andres Segovia, guitar
Conducted by Enrique Jorda


Cello Concerto No. 6 in D major, G479
Luigi Boccherini
Performed by Symphony of the Air
Andres Segovia, guitar, Felix Galimir, Arthur Granick
Conducted by Enrique Jorda


Castles of Spain, for guitar
Federico Moreno Torroba
Andres Segovia, guitar


Piezas características, for guitar
Federico Moreno Torroba
Andres Segovia, guitar


Suite compostelana for guitar
Federico Mompou
Andres Segovia, guitar


Sonata for guitar, Op 77 "Omaggio a Boccherini"
Mario Castelnuovo-Tedesco
Andres Segovia, guitar


Sonata for guitar No 1 ("Mexicana") Allegro in A major
Manuel Ponce
Andres Segovia, guitar


Impresiones musicales, for piano & orchestra 5. Antaño
Oscar Espla
Andres Segovia, guitar


Piezas (3) españolas, for guitar 1. Fandango (Allegretto)
Joaquin Rodrigo
Andres Segovia, guitar


Prelude and allegro, for guitar
Santiago de Murcia
Andres Segovia, guitar


Passacaglia for guitar
Ludovico Roncalli
Andres Segovia, guitar


Suite for guitar, No 1 in G major Gigue
Ludovico Roncalli
Andres Segovia, guitar


Suite for guitar, No 2 in E minor Gavotte
Ludovico Roncalli
Andres Segovia, guitar


Pavan for vihuela No 1
Luis de Milan
Andres Segovia, guitar


Pavan for vihuela No 6
Luis de Milan
Andres Segovia, guitar


Pavan for vihuela No 3
Luis de Milan
Andres Segovia, guitar


Pavan for vihuela No 5
Luis de Milan
Andres Segovia, guitar


Pavan for vihuela No 2
Luis de Milan
Andres Segovia, guitar


Pavan for vihuela No 4
Luis de Milan
Andres Segovia, guitar


Suite española No. 2, Gallarda y Villano
Gaspar Sanz
Andres Segovia, guitar


Suite española No. 1, Españoletas
Gaspar Sanz
Andres Segovia, guitar


Lessons (8) for guitar
Dionysio Aguado
Andres Segovia, guitar


Small Pieces (8), Op 24 (Complete) Minuet in C minor
Fernando Sor



Short Pieces (6), for guitar, Op 5 Minuet in C major
Fernando Sor
Andres Segovia, guitar


Pequeños Divertimento for 2 guitars No. 2, Op. 61/2 Etude No. 8 [No. 1] in C major (Andantino)
Fernando Sor
Andres Segovia, guitar


Pequeños Divertimento for 2 guitars No. 2, Op. 61/2 Etude No. 2 [No. 3] in A major (Andante allegro)
Fernando Sor
Andres Segovia, guitar


Etudes for guitar, Op 35 Etude No. 17 [no. 6] in D major (Moderato)
Fernando Sor
Andres Segovia, guitar


Etudes for guitar, Op 31 Etude No. 20 [No. 10] in A major (Andante allegro)

Fernando Sor
Andres Segovia, guitar


Etudes for guitar, Op 31 Etude No. 19 [No. 10] in A major (Andante)
Fernando Sor
Andres Segovia, guitar


Etudes for guitar, Op 35 Etude No. 16 [No. 15] in D minor (Moderato)
Fernando Sor
Andres Segovia, guitar


Etudes (12) for guitar, Op 6 Etude No. 11 [No. 17] in E minor (Allegro moderato)
Fernando Sor
Andres Segovia, guitar


Etudes for guitar, Op 29 Etude No. 13 [No. 19] in B flat major (Andante lento)
Fernando Sor
Andres Segovia, guitar


Etudes for guitar, Op 29 Etude No. 17 [No. 20] in C major (Allegro moderato)
Fernando Sor
Andres Segovia, guitar


Suite española No.1, for piano, Op. 47, B. 7 No. 1, Granada (Serenata) (Allegretto - Meno mosso - Tempo 1)
Isaac Albeniz
Andres Segovia, guitar


Andaluza (Playera) (No.5 of "Spanish Dances (12)"), various guitar & other non-piano arrangements No. 5, Andaluza (Andantio quasi Allegretto - Andante - Tempo 1)
Enrique Granados
Andres Segovia, guitar


Spanish Dances (12), in 4 volumes for piano (also arrangements), Op.37, H. 142 No. 10, Danza triste (Allegretto - Andante - Tempo 1)
Enrique Granados
Andres Segovia, guitar


Tonadillas al estilo antiguo, 10 songs for voice & piano, H. 136 No. 1, La Maja de Goya in G minor
Enrique Granados
Andres Segovia, guitar


Suite for lute in E minor, BWV 996 Allemande
Johann Sebastian Bach
Andres Segovia, guitar


Partita for lute in C minor, BWV 997 Sarabande
Johann Sebastian Bach
Andres Segovia, guitar


Partita for lute in C minor, BWV 997 Gigue
Johann Sebastian Bach
Andres Segovia, guitar


Partita for solo violin No. 1 in B minor, BWV 1002 Sarabande
Johann Sebastian Bach
Andres Segovia, guitar


Partita for solo violin No. 1 in B minor, BWV 1002 Bourrée
Johann Sebastian Bach
Andres Segovia, guitar


Partita for solo violin No. 1 in B minor, BWV 1002 Double
Johann Sebastian Bach
Andres Segovia, guitar


Suite for solo cello No. 3 in C major, BWV 1009
Johann Sebastian Bach
Andres Segovia, guitar


Suite for solo cello No. 1 in G major, BWV 1007 Prélude
Johann Sebastian Bach
Andres Segovia, guitar


Suite for solo cello No. 6 in D major, BWV 1012 Gavotte 1 & 2
Johann Sebastian Bach
Andres Segovia, guitar


Partita for solo violin No. 2 in D minor, BWV 1004 Chaconne
Johann Sebastian Bach
Andres Segovia, guitar


Prelude for lute in C minor, BWV 999
Johann Sebastian Bach
Andres Segovia, guitar


Partita for solo violin No. 3 in E major, BWV 1006 Gavotte en Rondeau
Johann Sebastian Bach
Andres Segovia, guitar


Fugue for lute in G minor, BWV 1000
Johann Sebastian Bach
Andres Segovia, guitar


Sonata for solo violin No. 1 in G minor, BWV 1001 Siciliano
Johann Sebastian Bach
Andres Segovia, guitar


Suite for lute in E minor, BWV 996 Bourée
Johann Sebastian Bach
Andres Segovia, guitar