Johannes Brahms
The
Requiem
has been around since music began in medieval times. Its usual form is a setting of the Catholic liturgical mass for the dead, with its descriptions of damnation and please for the souls to be spared the horrors of hell.
Good-Music-Guide has previously featured the Requiems of
Faure
and
Mozart
each unique in its own way.
The
German Requiem
of Brahms is probably the most unique of all. As Brahms himself said, it is less a Requiem for the dead than one for the living, less a work of religion than a work of humanity.
Ein deutsches Requiem
was Brahms' first great orchestral success. He started work on it in his mid 20's and completed it in 1868, when he was just 35.
The two big events that inspired the rather secular Brahms to write for this form was the death of his close friend Robert Schumman in 1856 and of his mother in 1865. While he had six movements finished prior to her death, he added a seventh (now the fifth) "
As one whom his mother comforteth, so will I comfort you
" and dedicated the entire work to his mother, Schumann and humanity.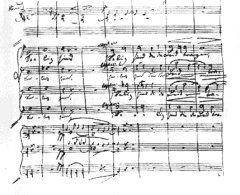 German Requiem Manuscript
Like all great works of art, it has transcended its origins, and has become one of the greatest choral works ever written.
Brahms did away with the standard "fire and brimstone" texts of the traditional Requiem and instead used German translations of his own selected Biblical texts. Brahms' Requiem is feminine, comforting, uplifting.
Brahms was aften attacked for his disregard for church dogma, and his secular attitide. He replied "nevertheless, I have my own faith". His point is that there is God, or a spirit in all of us, that humanity has the power for good, for nobility, for a higher purpose.
It is ironic that Brahms died just 17 years before the start of the barbarity of World War I.
Brahms was a deep, serious man. "
I never laugh on the inside
" he once said. He was also extremely shy. All his emotions he expressed through his music. And this early work is one of the beautifully expresed and personal of all his compositions. At 76 minutes, it requires a serious commitment, but it will leave you feeling on top of the world.
Track Listing
Johannes Brahms
A German Requiem
Ein deutsches Requiem
Vienna Philharmonic Orchestra
Herbert von Karajan
Jose Van Dam
Barbara Hendricks
Rudolf Scholz
Ein deutsches Requiem op.45

Selig sind, die da Leid tragen
Denn alles Fleisch, es ist wie Gras
Herr, lehre doch mich
Wie lieblich sind Deine Wohnungen
Ihr habt nun Traurigkeit
Denn wir haben hie keine bleibende Statt
Selig sind die Toten, die in dem Herrn sterben