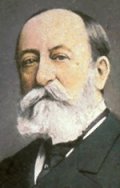 Camille Saint-Saens
If you are familiar with the music of Camille Saint-Saens, it may come as a surprise to learn when he lived and died. He died in 1921, having live through revolution, war and great changes in musical styles. Its amazing to realise that his life overlapped that of Beethoven as well as Stravinsky. Yet his own music is firmly, even stubbornly rooted in the Romantic.
Modernism, impressionism and serialism were ignored by Saint-Saens. His music is noted for its melodic inventiveness, its reliance on traditional styles, and above all its brilliance.
Saint-Saens' music is always easy to listen to, and like that of Mendelssohn, happiness is always the main theme.
It is a little known fact that Saint-Saens was a child prodigy, a talent that rivaled that of Mozart. He started to play the piano aged two and a half, wrote his first piece aged three, and gave his first concert (which included the Beethoven third piano concerto) at age ten.
He kept an active interest in academic persuits throughout his life. He kept up to date with advances in mathematics, astronomy and geology, subjects that in his time were making huge changes in the way we think of where we belong in the universe.
The upshot of this is that while the music of Saint-Saens is always superficially beautiful, and has been criticized for being just that, there is an underlying philosophical subtext to most of what he wrote.
The five piano concertos span most of his composing life. It is a pity that while the second is occassionally heard, the rest have largely fallen from the front-line repertoire. There is much joy, melodic inventiveness and a subtle depth to these works that is a refreshing relief for modern times.
While the first concerto, written at the age of 23, and the third have considerable charm and brilliance, it is the second, fourth and fifth that are real jewels.
The
Second Piano Concerto
has become the most enduringly favourite of the five. Written in just 17 days, and commissioned by Anton Rubinstein, it was initially criticized for its wide-ranging stylistic swings, "from Bach to Offenbach" quipped one detractor.
While there is certainly the spirit of Bach in its impressive opening improvisation, what follows is Saint-Saens genius at writing melodies that intertwine, and melodies that require a deft hand from the performer.
The
Fourth Piano Concerto
is the next least neglected of the five, and it is an exercise in development and manipulation of themes. Try to spot each theme and follow it throughout the work to discover what Saint-Saens manages to do with them. It is in just two movements, an introsective opening and an exuberant finale, with each one subdivided into two sections.
My personal favourite is his final
Fifth Piano Concerto
, nicknamed "The Egyptian". Written in Luxor, during a trip to Egypt, it is an experiment in subtle coloration, simple melodies that rise up in grandeur and exotic flavours.
The
Fifth
is the most programatic of the concertos. There are direct references to the croaking of frogs in the Nile, a Nubian love song, and the joy of a sea crossing as expressed by the whiring of the ship's propellors.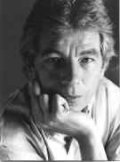 Jean-Philippe Collard
This recording by Jean-Philippe Collard and conducted by Andre Previn is my favourite, a contender being another complete set by Pascal Roge. Collard plays these works with more subtlety, more taste, more refinement. While Roge emphasizes the bluster and virtuoso aspects, Collard plays Saint-Saens the philosopher, letting the music speak for itself.
In addition, on this bargain priced 2 CD set, we get two bonuses for piano and orchestra. The
"Wedding Cake" Caprice-Valse
was composed for a friends wedding, charming and pianistic.
The Fantasy
Africa
reflects Saint-Saens' love of the East, full of indigenous rhythms and harmonies, with an exhilirating coda based on a Tunisian folk song.
Buying this CD set proves that there is a whole world of music out there, waiting to be discovered. While certainly not as deep or complex as the world of Beethoven or Wagner, Saint-Saens represents the last bastion of Romantic elegance in a world repidly decaying.
A joy in every respect; music, performance, recording and price.
Track Listing
Camille Saint-Saens
Complete Piano Concertos
Jean-Philippe Collard, piano
Royal Philharmonic Orchestra, Andre Previn

CD 1

Piano Concerto No.1 in D, Op.17

I Andante - Allegro assai
II Andante sostenuto quasi adagio
III Allegro con fuoco

Piano Concerto No.2 In G Minor, Op.22

I Andante sostenuto
II Allegro scherzando
III Presto

Piano Concerto No.4 In C Minor, Op.44

I Allegro moderato - Andante
II Allegro vivace - Andante - Allegro


Disc: 2

Piano Concerto No.3 In E Flat, Op. 29

I Moderato assai-Piu mosso (Allegro maestoso)
II Andante
III Allegro non troppo

Piano Concerto No.5 In F, Op.103

I Allegro animato
II Andante-Allegretto tranquillo quasi andantino
III Molto allegro


'Wedding Cake' - Caprice-Valse, Op. 76


'Africa' Fantaisie, Op. 89