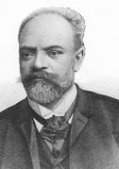 Antonin Dvorak
Walk into any classical music CD store and take a look in the Dvorak section. What you will find is several dozen versions of his Symphony No.9
From the New World
, likewise his
Cello Concerto
, maybe a recording of his
Violin Concerto
and several recordings of his
Slavonic Dances
. These are rich and great works, worthy of their status.
Yet if this is only Dvorak you listen to, you will miss some of his most gorgeous melodies and his most profound music. These are found in his chamber music.
Dvorak wrote a huge amount of chamber music, probably more than in his orchestral collection. Fourteen string quartets, piano trios, two piano quartets, the famous
American
string quintet and the jewel in the crown, the Piano Quintet Op.81.
Dvorak's first venture into this genre was the Piano Quintet Op.5, and early work that Dvorak was never happy with. He tried to revive it in a revision, but again, he was not satisfied with the result.
Instead he wrote a completely new Piano Quintet, the one now known as Opus 81. This Piano Quartet is one of the greatest chamber works ever written, and surprisingly little known.

Emerson Quartet
The Piano Quartet consists of four movements, a brisk
Allegro
, a haunting slow movement, the
Dumke
, then a
Scherzo "Furiant"
and a final
Rondo
.
So what makes it all so special? Firstly, and above all, the absolutely gorgeous melodies. Dvorak was a master of moving and memorable melodies, tunes that stick in the mind. And the melodies in the Piano Quintet are amongst his most beautiful.
Secondly, the interplay between a string quartet, with all its history and complexities, with a solo piano. Sometimes the piano floats about the strings, more often it weaves in and out toying with them and joining them.
Finally the rich depths of emotion, from the sprightly fast movements to the incredibly haunting slow movement, laced with surprising rhythms and harmonies.
On this CD we have the very famous Emerson Quartet, joined by Menahem Pressler, the pianist from the Beaux Arts Trio. Together they play heavenly music. This is world-class music making by world-class musicians.
And, with the Piano Quartet no.2 also included, it will open a door to the rich world of Dvorak's chamber music. Enjoy!
Track Listing
Antonin Dvorak
Piano Quintet Op.81
Piano Quartet Op.87
Emerson String Quartet Mehahem Pressler, piano
Quintet For Piano, 2 Violins, Viola And Cello In A Major, Op. 81

Allegro, ma non tanto
Dumka: Andante con moto
Scherzo (Furiant): Molto vivace
Finale: Allegro

Piano Quartet in E flat, Op 87

Allegro con fuoco
Lento
Allegro moderato, grazioso
Finale: Allegro ma non troppo